Hall of Fame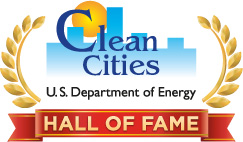 The Clean Cities Hall of Fame recognizes outstanding contributions to advancing affordable, domestic transportation fuels and technologies.
Inductees are ambassadors for alternative fuels and champions for fuel economy. Their exemplary dedication and leadership are paving the way for a new transportation future.
Benjamin Watson Inspirational Award
Nominations for the Benjamin Watson Inspirational Award come directly from coalition directors, in a process overseen by the Clean Cities Coalition Council. Coalition directors then vote to select the winner.
The award is named after Benjamin Watson, a long-time coalition director of Kansas City Regional Clean Cities. Watson's engaging personality and spirit left an indelible stamp on the Clean Cities coalition community.
2023 – Jannet Malig, Long Beach Clean Cities
2022 – Richard Battersby, East Bay Clean Cities
2021 – Tammie Bostick, Utah Clean Cities
2020 – Ann Vail, Louisiana Clean Fuels
2019 – Stephen Russell, Massachusetts Clean Cities
2018 – Brian Trice, Columbia-Willamette Clean Cities
2017 – Melissa Howell, Kentucky Clean Cities Partnership
2016 – Lee Grannis, Greater New Haven Clean Cities Coalition
2015 – Sam Spofforth, Clean Fuels Ohio
2014 – Barry Carr, Clean Communities of Central New York
2013 – Rita Ebert, Greater Long Island Clean Cities Coalition
2012 – Stephanie Meyn, Puget Sound Clean Cities Coalition (now Western Washington Clean Cities)
2011 – Jonathan Overly, East Tennessee Clean Fuels Coalition