Eastern Pennsylvania Alliance for Clean Transportation
The Eastern Pennsylvania Alliance for Clean Transportation works with vehicle fleets, fuel providers, community leaders, and other stakeholders to reduce petroleum use in transportation.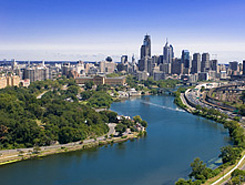 1818 Market St, 13th Fl
Philadelphia, PA 19103-3638
Tony Bandiero
Tony Bandiero has a diverse background, from marketing manager for a high-tech micro-electronics manufacturer to his alternative fuels business development management for a petroleum construction company, which has given him the know-how needed to promote alternatives to gasoline and diesel in the transportation sector. His interest in the Clean Cities program was sparked in Long Island, NY (Greater Long Island Clean Cities, GLICC) where his former company was headquartered. Through his committee work with GLICC, he expanded his interest for alternative fuels and petroleum reduction technologies to both Pennsylvania and New Jersey, where he currently resides.
In 2006, Bandiero was elected to the Board of Directors of the Greater Philadelphia Clean Cities (GPCC) Coalition, where he served for over 2-1/2 years. In 2009, he was unanimously elected as Executive Director of the GPCC, where he continues to serve.
In 2013, Bandiero spearheaded the expansion of the coalition from 5 counties in southeastern Pennsylvania to include 29 additional counties of eastern and central Pennsylvania. This was approved by the Department of Energy during a re-designation process. To reflect the expanded territory, the coalition changed its name from GPCC to the Eastern Pennsylvania Alliance for Clean Transportation (EP-ACT). Since becoming Executive Director, he is directly involved in obtaining over $4.5 million funding for projects that are valued at over $20 million. These alternative fuels projects include public, private and municipal partners in Pennsylvania.
Bandiero serves as a board member of the Transportation Energy Partners (TEP), a group that is comprised of Clean Cities Coalitions and industry partners that work on federal policy supporting alternative fuels and the funding for them. He also currently serves as 1st Vice President of The Traffic Club of Philadelphia, an organization of over 500 companies that promotes intermodal transportation in and around the Delaware Valley of Pennsylvania.
General Stats
Designated: September 22, 1993
Population: 8,631,101
Area: 20,505 sq. mi.
Boundary: Counties: Adams, Berks, Bradford, Bucks, Carbon, Chester, Columbia, Cumberland, Dauphin, Delaware, Franklin, Lackawanna, Lancaster, Lebanon, Lehigh, Luzerne, Lycoming, Monroe, Montgomery, Montour, Northampton, Northumberland, Perry, Philadelphia, Pike, Schuylkill, Snyder, Sullivan, Susquehanna, Tioga, Union, Wayne, Wyoming and York
Alternative Fueling Stations
Biodiesel (B20 and above): 3
Natural Gas: 35
Ethanol (E85): 12
Electric: 411
Propane: 71
Petroleum Savings*
Annual Petroleum Savings
Annual Petroleum Savings by Alternative Fuel Vehicle Project Type
Greenhouse Gas Savings*
Annual Greenhouse Gas Emission Avoided
Greenhouse Gas Emission Reduced by Alternative Fuel Vehicle Project Type
*2015 DOE-Verified Metrics