Long Beach Clean Cities
The Long Beach Clean Cities works with vehicle fleets, fuel providers, community leaders, and other stakeholders to save energy and promote the use of domestic fuels and advanced vehicle technologies in transportation.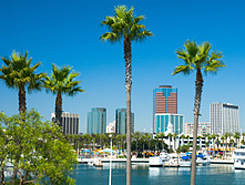 Cerritos College
11111 New Falcon Way
Cerritos, CA 90703
Jannet Malig
Jannet Malig has an MBA from Chapman University and a BA from California State University, Fullerton, in Business Finance. She has been employed with Cerritos College since January 2009 and has been developing and promoting alternative fuels and renewable energies with end-users. She has also been developing a pipeline for employment for students who want to enter a career in these areas either through short term training, incumbent worker training or college credit certificates or degrees. Before that she spent 15 years in the OEM Automotive, Medium/Heavy Duty and off-road manufacturing supplier side developing and designing engine systems to OEM manufacturers. Malig was appointed co-director of Long Beach Clean Cities in November, 2013.

Dean Tedtaotao
Dean Tedtaotao is the Superintendent in the Fleet Management Division of the County of Los Angeles Department of Public Works. The department provides public infrastructure and municipal services to protect and enrich the daily lives of over ten million people in Los Angeles County. He currently oversees the fleet operations for approximately 900 of the department's 3100 vehicles at Central Yard Shop in Los Angeles which is one of 6 maintenance shops strategically located throughout Los Angeles County. Tedtaotao is a graduate of the General Motors ASEP program and is currently the Sergeant of Arms for the Municipal Equipment Maintenance Association [MEMA]. He has worked for Public Works for 15 years. Tedtaotao was appointed co-director of Long Beach Clean Cities in January, 2014.
General Stats
Designated: August 31, 1994
Population: 627,423 (based on 2021 Census estimate)
Area: 73 sq. mi.
Local/Regional Service Area: City of Long Beach and surrounding area within Los Angeles County, including the Port of Long Beach, Signal Hill, Cerritos, and Norwalk
Alternative Fueling Stations
Including public and private stations

Biodiesel (B20 and above): 0
Electric (charging outlets): 557
Ethanol (E85): 4
Hydrogen: 1
Natural Gas: 4
Propane: 3
Energy Use Impact*
Annual Energy Impact
Annual Energy Impact by Alternative Fuel Vehicle Project Type
Emissions Reduced*
Annual Emissions Reduced
Emissions Reduced by Alternative Fuel Vehicle Project Type
*2021 DOE-Verified Metrics
Learn about just some of the projects from Long Beach Clean Cities. Visit the Long Beach Clean Cities website for more projects and information.
Projects and Case Studies