Columbia-Willamette Clean Cities
The Columbia-Willamette Clean Cities works with vehicle fleets, fuel providers, community leaders, and other stakeholders to reduce petroleum use in transportation.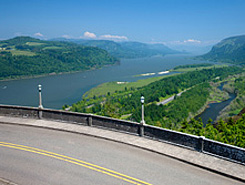 625 Marion St NE
Salem, OR 97301-3737

Rick Wallace
Rick Wallace is a Senior Policy Analyst at the Oregon Department of Energy in the Energy Policy Division and serves as the agency expert on alternative fuels, infrastructure and vehicles in the transportation sector. Rick also serves as coordinator of the Columbia Willamette Clean Cities Coalition. The coalition promotes the use of domestically produced transportation fuels and fuel efficiency. Rick has accumulated eleven years experience developing, marketing and administrating conservation and renewable fuel programs. Previous to his work in energy Rick worked 14 years in the aerospace/defense industry as an engineer.

Julie Peacock
Julie Peacock is an Energy Policy Analyst at the Oregon Department of Energy in the Energy Policy Development Division working on a variety of issues from Oregon's Electricity Resource Mix to transportation policy. Her previous experience includes working as a policy analyst, a journalist, and a geographic information systems analyst. She has a Master of Public Affairs from Indiana University in Environmental Policy and Natural Resource Management and Policy Analysis; and a Bachelor of Arts from North Carolina State University in Political Science and Public Policy.
General Stats
Designated: November 10, 1994
Population: 3,747,409
Area: 31,472 sq. mi.
Boundary: Oregon counties: Benton, Clackamas, Clatsop, Columbia, Crook, Deschutes, Hood River, Jefferson, Lane, Lincoln, Linn, Marion, Multnomah, Polk, Tillamook, Wasco, Washington, Yamhill. Washington counties: Clark, Cowlitz, Skamania, Wahkiakum.
Alternative Fueling Stations
Biodiesel (B20 and above): 25
Natural Gas: 13
Ethanol (E85): 9
Electric: 1055
Propane: 45
Petroleum Savings*
Annual Petroleum Savings
Annual Petroleum Savings by Alternative Fuel Vehicle Project Type
Greenhouse Gas Savings*
Annual Greenhouse Gas Emission Avoided
Greenhouse Gas Emission Reduced by Alternative Fuel Vehicle Project Type