Utah Clean Cities
The Utah Clean Cities works with vehicle fleets, fuel providers, community leaders, and other stakeholders to save energy and promote the use of domestic fuels and advanced vehicle technologies in transportation.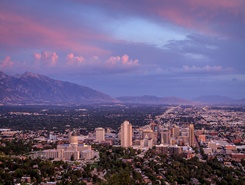 451 S State St, Ste 145
Salt Lake City, UT 84111
Tammie Bostick
Tammie Bostick leads Utah Clean Cities as executive director with a passion for clean fuels, clean air, and clean strategies. She has an unwavering drive to change the world by inspiring others to think globally and act locally.
As the daughter of a petroleum engineer, Bostick-Cooper lived the life of the boom and bust oil field cycles. Her experiences helped deepen her commitment to preserving the delicate balance of Utah's beautiful landscape and abundant resources with alternative, domestic fuels that are economically and ecologically sound and sustainable.
Bostick is currently one of the lead partners on the WestSmart grant with PacifiCorp, where she will be developing workplace charging, fleet, and community education resources. She is also developing a program to promote informed consumer choices through awareness of the new Environmental Protection Agency (EPA) vehicle sticker program, and collaborating on the development of a Green Fleet program for Utah. She regularly promotes the Idle-Free Utah program in cities, schools, communities, and national parks.
Bostick is a Utah native and a graduate from the University of Utah with a degree in organizational communications. She previously worked as executive director for the Family Support Center of the Uintah Basin, a non-profit respite and emergency shelter for children.
General Stats
Designated: October 03, 1994
Population: 3,062,740
Area: 84,882 sq. mi.
Boundary: Entire state of Utah except Tribal Lands
Alternative Fueling Stations
Including public and private stations
Biodiesel (B20 and above): 1
Electric (charging outlets): 843
Ethanol (E85): 2
Hydrogen: 0
Natural Gas: 53
Propane: 42
Energy Use Impact*
Annual Energy Impact
Annual Energy Impact by Alternative Fuel Vehicle Project Type
Emissions Reduced*
Annual Emissions Reduced
Emissions Reduced by Alternative Fuel Vehicle Project Type
*2017 DOE-Verified Metrics
Learn about just some of the projects from Utah Clean Cities. Visit the Utah Clean Cities website for more projects and information.
Projects and Case Studies
Videos

Electric City, Utah

Salt Lake City Fuels Vehicles With Natural Gas

Semi Service Outfits Replica Batmobile to Run on Natural Gas