Clean Cities Directors Recognized for Commitment to Alternative Fuels and Advanced Vehicle Technologies
Dec. 29, 2022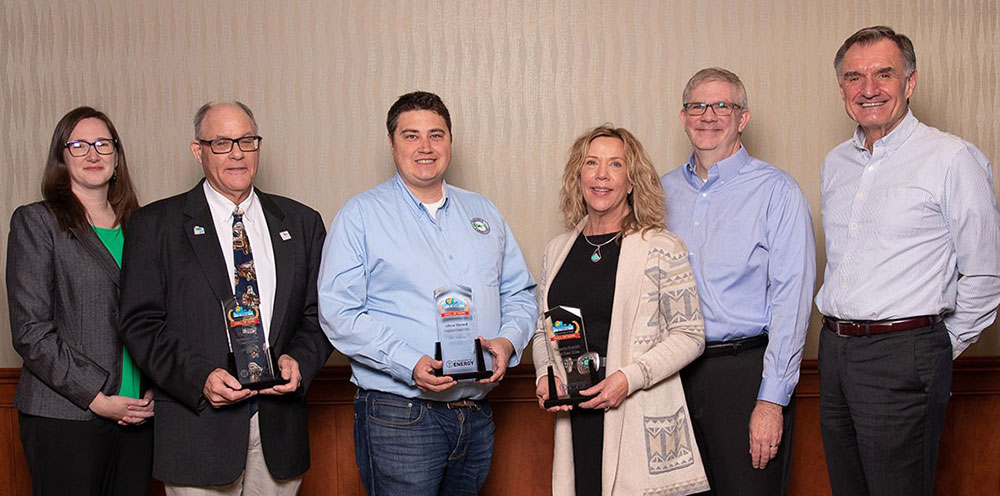 Three Clean Cities coalition directors were inducted into the Clean Cities Hall of Fame—Tammie Bostick of Utah Clean Cities, Alleyn Harned of Virginia Clean Cities, and Tim Taylor of Sacramento Clean Cities Coalition. The Hall of Fame honors directors who have exhibited steadfast leadership, commitment, and contributions to further alternative fuels and advanced vehicles in U.S. transportation.
Coalition directors also recognized Richard Battersby of East Bay Clean Cities Coalition with the Benjamin Watson Leadership Award, in honor of a long-time coalition leader whose uplifting spirit and personality will never be forgotten.
Tammie Bostick, Utah Clean Cities
Bostick has a passion for preserving Utah's landscape and resources and her commitment and drive to build resilient communities through clean fuel transitions built Utah Clean Cities into a thriving coalition. Bostick joined the coalition in 2015 and expanded its work into clean fuel adoption in rural to urban communities, building lasting partnerships through meaningful and adaptive projects.
"Tammie moved the state of Utah from 49th to 5th in the nation for electric vehicle adoption," said Scott Brandeberry, president of Lancer Energy. "She has taken a very diverse and inclusive approach, knowing it's going to take all the advanced fuels to accomplish the state's goals for cleaner air. Her actions have helped make a vast improvement in our state's air quality, and I am excited to see what she will be able to accomplish in the future."
Her colleagues point to her ability to connect on a personal, authentic level with stakeholders and leaders as a clear example of how she excels in her role and advances the mission of the coalition and the Clean Cities Coalition Network. Bostick consistently dedicates herself to the Clean Cities mission by generating real-world impact through promoting policy, alternative fuels, greenhouse gas emissions reduction, and transportation energy efficiency initiatives.
"Tammie Bostick is known as a clean air champion," said Mark Smith, Program Manager of the U.S. Department of Energy's Vehicle Technologies Office, Technology Integration Program, which houses Clean Cities.
Alleyn Harned, Virginia Clean Cities
Harned has over a decade of experience leading Virginia Clean Cities and tackling transportation and energy-related issues throughout Virginia. He is deeply committed to building a decarbonized future and extremely knowledgeable about federal, state, and local laws and policies. His efforts to improve air quality, increase energy security, and broaden economic opportunity through the increased use of alternative fuels and vehicles earned him the reputation of being an ambitious go-getter with high expectations for himself and others.
"Alleyn not only sees the path forward for clean, domestically fueled transportation in Virginia, but knows how to navigate the political economy of the Commonwealth to get there," said Margaret Smith, technology manager for the U.S. Department of Energy (DOE) Technology Integration Program.
Harned successfully managed tens of millions of dollars in grant awards from DOE, the U.S. Environmental Protection Agency, and the U.S. Department of Agriculture to demonstrate and deploy alternative fuels and vehicles. He developed and sustained relationships with over 100 alternative fuel fleets and 80 stakeholders and drafted the transportation section for the Virginia Energy Plan under three different governors.
"This is the honor of my career," said Harned. "As a clean fuel transportation leader, I have been blessed with working on a range on transportation energy and environmental programs and Clean Cities is by far the most effective program in the federal government. This honor inspires me to continue to do better for all communities in my years ahead."
Tim Taylor, Sacramento Clean Cities Coalition
Taylor helped establish the Sacramento Clean Cities Coalition in 1994, became co-coordinator in 2015, and was appointed to executive director in 2018. His many notable contributions in Sacramento include his diligent involvement with local fleets, commitment to educating fleet managers, and furthering development of transportation solutions in underserved communities.
"Tim is known for his realistic approach to alternative fuels and technologies, including natural gas, renewable diesel, electric vehicles, and telematics, and for finding the right technology for the right application," said Mike Laughlin, technology manager for DOE's Technology Integration Program.
Taylor is a wealth of knowledge and experience in clean energy and transportation due to his decades of work as manager of the land use, communications, and mobile source division at the Sacramento Metropolitan Air Quality Management District and as government relations manager for Cleaire, a Bay Area manufacturer of diesel particulate filters.
"Being inducted into the Hall of Fame is a great honor," Taylor said. "Clean Cities has given me the opportunity to educate hundreds of fleets about low- and zero-emission technologies and fuels, and it has now opened opportunities to do the same with individuals and businesses in underserved communities."
Benjamin Watson Leadership Award—Richard Battersby, East Bay Clean Cities Coalition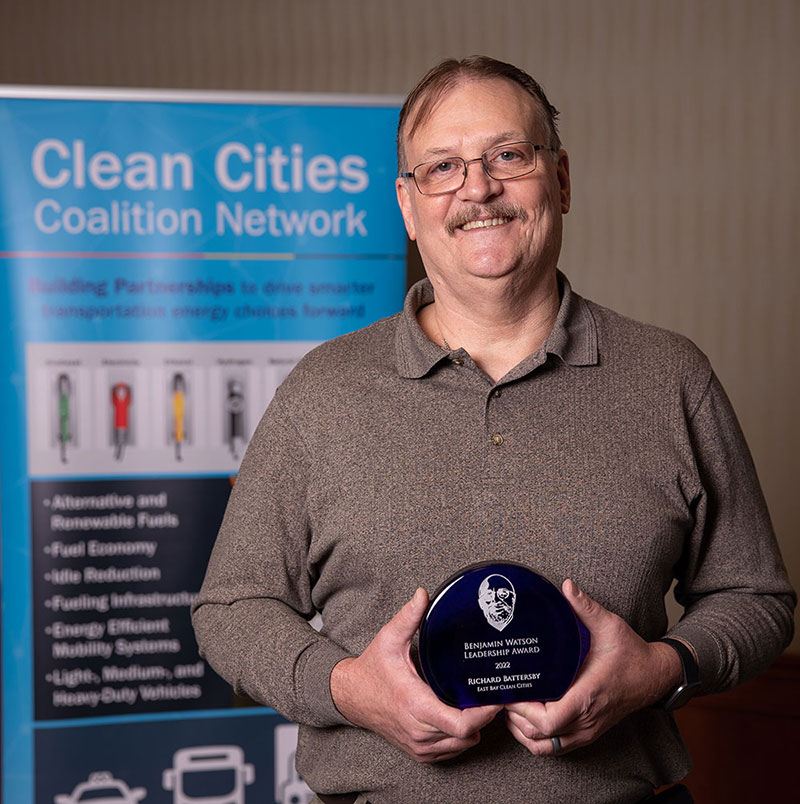 By sharing his wealth of expertise and being such an inviting and instructive presence both inside and outside his own coalition, Battersby—who also holds a place on the Clean Cities Hall of Fame—excels at connecting with people and fleets. With more than 25 years of experience in vehicle fleet management in the public and private sectors, Battersby is extremely knowledgeable about fleet vehicle types and considerations and truly speaks the language of fleets. His expertise allows him to offer guidance and technical assistance to organizations throughout the Bay Area interested in deploying alternative fuel vehicles.
"Everyone enjoys working with him because he is friendly, approachable, never lets his ego get in the way, and has a great sense of humor," wrote one colleague who nominated Battersby. "He takes every opportunity to let fleet managers know how they can reap the economic and environmental benefits of alternative fuels and advanced vehicles."
Battersby is known for sharing his vast expertise and experience in alternative fuels and vehicles to help other coalitions succeed. He is not afraid to speak up for other coalitions in California, is always looking out for his fellow coalition directors, and is happy to lend an ear and give advice.
"Richard has nurtured so many California coordinators that he is somewhat of an institutional mentor," wrote another colleague.
To the delight of fellow coalition directors, Battersby also designs and produces commemorative pins for Clean Cities events. He is well-loved in the Clean Cities world and a valued part of the network.
"I am both honored and humbled to have been selected by my peers to receive this prestigious award considering how high the bar has been set by previous recipients," Battersby said. "This is truly the highlight of my career and would not have been possible without the steadfast support and assistance of my family, and our extended family that is Clean Cities."
Visit the Clean Cities Hall of Fame to learn more about these and previous honorees.