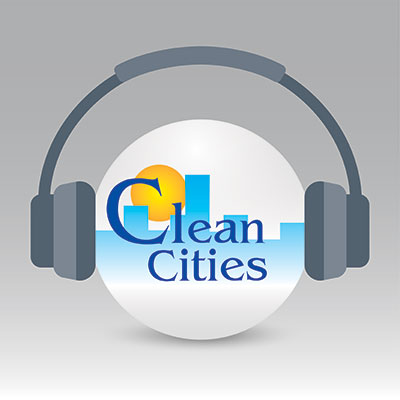 On the Go: An On-Road Transportation Podcast with Clean Cities
On the Go is a podcast on alternative fuels, advanced vehicles, and emerging transportation technologies that are transforming mobility as we know it. We sit down with experts and fleet practitioners from National Laboratories, federal agencies, utilities, and transportation stakeholders to give you on-the-ground insight into the U.S. transportation ecosystem.
2020 Transportation Topics: Two Experts Weigh In
January 2021
Guests: Stacy Noblet (ICF) and Amy Snelling (ICF) from the U.S. Department of Energy Vehicle Technologies Office's Technical Response Service
The world of alternative fuels and advanced vehicles is ever evolving with new technologies, markets, and policies. During the transformative year of 2020, what key trends emerged as transportation stakeholders worked to implement advanced vehicle technologies under shifting ground? As a free rapid-response data and information service for transportation stakeholders, consumers, and others, the Technical Response Service has first-hand insight into trending inquires on alternative fuels, fuel economy improvements, idle reduction measures, and advanced vehicles. In this episode, On the Go hosts chat with experts from the Technical Response Service to unpack trending topics in 2020, including:
Impacts of the pandemic on e-commerce
Surging interest in transportation electrification by consumers and fleets across the country
Expansions to alternative fuel corridors along U.S. travel corridors, and more.