Clean Cities Celebrates 30 Years of Acting Locally To Generate National Impact
Oct. 3, 2023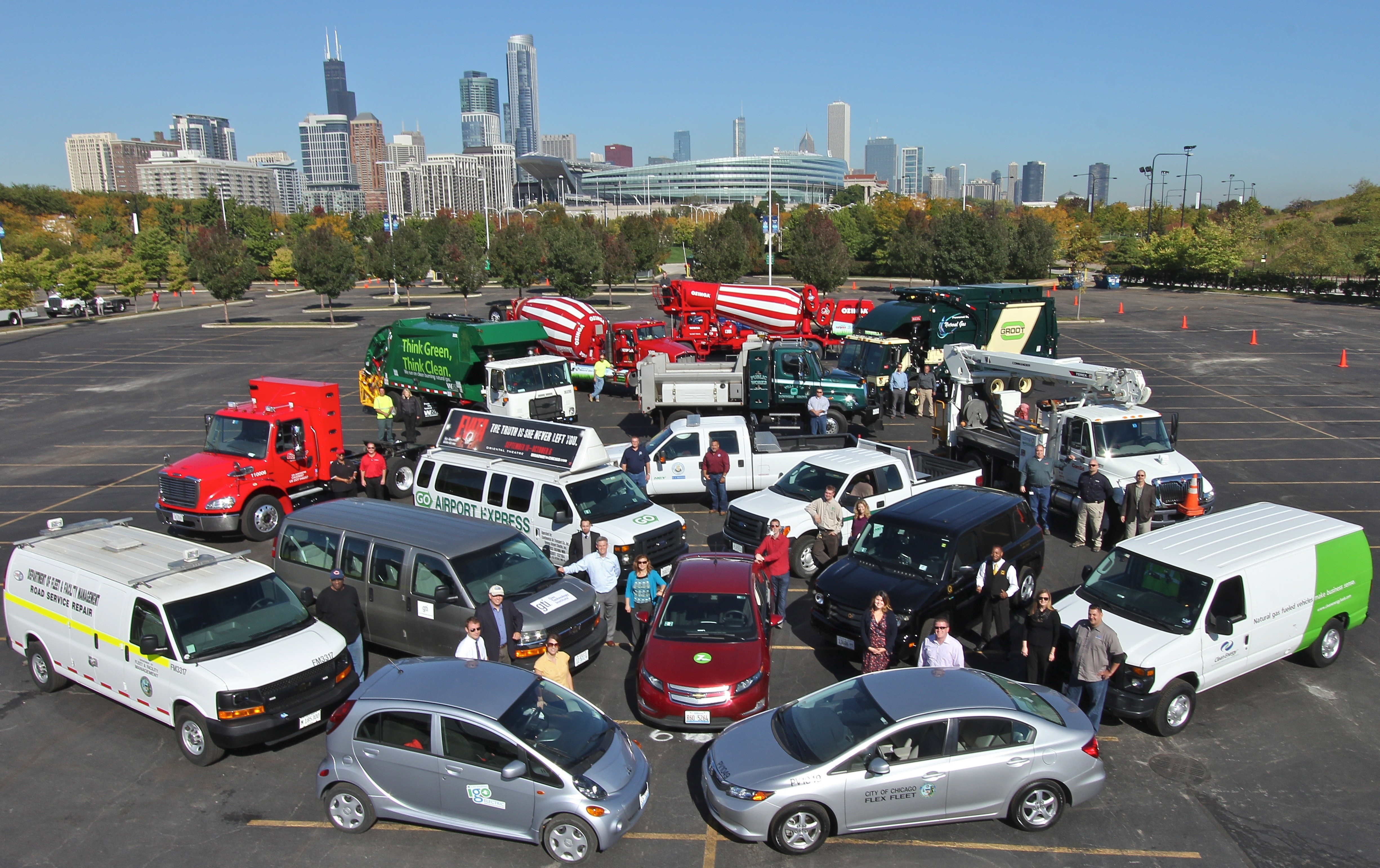 Clean transportation technologies are entering the market and hitting the roads faster than ever with billions of dollars in new investments from the federal government and private industry. Recent federal investments include $7.5 billion for a nationwide network of electric vehicle (EV) and alternative fueling infrastructure, as well as more than $10 billion for clean school and public transit buses. These funds are helping pave the road toward decarbonizing U.S. transportation systems—following a trail blazed 30 years ago by people devoted to creating a foothold for sustainable transportation.
The U.S. Department of Energy (DOE) established the Clean Cities Coalition Network in 1993 to boost the country's energy security, economic vitality, and quality of life by advancing affordable, efficient, and clean transportation fuels and technologies. Over the past 30 years, coalition activities have saved the equivalent of 13 billion gallons of gasoline and prevented more than 67 million tons of greenhouse gas emissions. Clean Cities coalitions have also helped place more than 1.3 million alternative fuel vehicles on U.S. roads and establish the charging and fueling infrastructure to serve this growing market.
As a network, coalitions generate national impact by transforming transportation systems at the local level. To make these impacts, coalitions draw on technical assistance, data, and tools created and maintained by several of DOE's national laboratories, including the National Renewable Energy Laboratory (NREL), Argonne National Laboratory, Oak Ridge National Laboratory, and the National Energy Technology Laboratory.
Today, more than 75 Clean Cities coalitions cover nearly every state and 85% of the U.S. population and partner with 20,000 public and private stakeholders. Coalitions act locally in urban, suburban, and rural communities throughout the nation to help businesses and consumers meet their climate, financial, and energy goals. Explore projects highlighting how Clean Cities coalitions act in local communities throughout the country.
Approximately 350 people from DOE, national laboratories, Clean Cities coalitions, and stakeholder organizations gathered in September to celebrate the network's successes over the past 30 years. The event highlighted how Clean Cities is a unique federal effort that has thrived in large part because coalitions are able to customize their work to fit the local context.
"Coalitions work in their communities to understand local priorities and offer resources and expertise backed by real-world experience," said Mark Smith, DOE's Vehicle Technologies Office Technology Integration Program manager. "Clean Cities is transforming transportation by bringing the latest technologies to the streets and providing technical assistance with lasting results."
As technology deployment partners with DOE's Vehicle Technologies Office, coalitions leverage expertise from federal agencies, national laboratories, and other coalitions. This expertise includes hands-on problem-solving assistance, education and outreach materials, organizational capacity building, and an array of data and analysis tools. Coalitions bring these resources directly to the people they serve, developing community-driven solutions based on a unique understanding of local needs, opportunities, and markets.
"Coalitions are a trusted, go-to resource for people who want to understand and adopt clean transportation technologies or alternative fuels," said NREL's Margo Melendez, a transportation technology deployment group manager. "Coalition staff live in the local regions where they work—they're rooted in the community—so they know how to tailor projects to actual on-the-ground needs."
Commitment to Community
Engaging with local organizations to co-develop projects can help maximize the benefits of clean transportation investments by aligning efforts with real, on-the-ground needs. With 30 years of experience fostering relationships with both federal agencies and local partners, coalitions are uniquely positioned to build bridges between national priorities and local needs. Clean Cities coalitions can also apply their relationship-building expertise to help ensure the recent unprecedented federal investments in clean transportation reach underserved and overburdened communities.
"Community engagement helps elevate the voices of members of marginalized communities who have historically lacked the political power and economic capital to influence decision-making," said Erin Nobler, a transportation project leader at NREL.
NREL is collaborating with DOE and Argonne National Laboratory to build the capacity of Clean Cities coalitions to put federal energy and environmental justice priorities into practice by taking a community-first approach to developing clean transportation projects. Coalitions received training and resources on community engagement best practices, historical transportation inequities, and metrics to evaluate project impacts, as well as other equity-related topics. Seventeen coalitions are receiving training and DOE funding to hire community engagement liaisons to further their work locally as part of a pilot effort.
This work aligns with the federal Justice40 Initiative, which reflects a commitment to securing environmental justice and spurring economic opportunity for disadvantaged communities that have been historically marginalized and overburdened by pollution and underinvestment in housing, transportation, water and wastewater infrastructure, and health care.
"Clean Cities coalitions can put federal equity priorities into practice by leveraging their community connections, enabling national priorities to manifest at a local level," Nobler said. "Coalitions also relay knowledge and insights from their local context to inform national efforts and priorities."
Model for Collaborative Technology Deployment
The innovative model built over the past 30 years by Clean Cities serves as a framework for how federal programs can successfully deploy new technologies by intertwining national goals and initiatives with local, community-based actions. An NREL report, "Clean Cities: A Model of Collaborative Technology Innovation Built Over 30 Years," documents how the network successfully deploys new technologies through long-term, multidirectional stakeholder engagement.
"Clean Cities centers the knowledge, expertise, and vision of local communities," said Marcy Rood, a principal environmental analyst at Argonne National Laboratory who provides support to coalitions. "Others can learn from the network's 30 years of experience how to design community-centered solutions that align national objectives with local goals and visions."
The long-standing success of Clean Cities as a technology deployment model is also being leveraged by more recent federal efforts, including Clean Energy to Communities (C2C), a new DOE program that helps local governments, tribes, electric utilities, and community-based organizations set and meet their clean energy goals. C2C leverages the latest set of advanced capabilities from national laboratories, as well as community engagement and peer-learning strategies. Clean Cities coalitions will support communities participating in C2C offerings by leveraging the transportation technology deployment and partnership-building expertise within the Clean Cities Coalition Network.
Everything began in 1993 with six coalitions, and over the next 30 years Clean Cities built bipartisan support and established a presence in nearly every state. Today, coalitions work in communities large and small throughout the country to generate a compounding impact nationwide—far beyond what any single organization could accomplish on its own.
"Coalitions are advancing U.S. energy independence and reducing vehicle emissions while supporting regional economic development and job growth," Smith said. "Their deep connections, expertise, and skills at relationship building are crucial as we continue to move transportation into the clean energy future."