Natural Gas Vehicle Technology Forum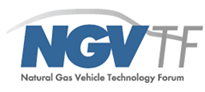 The annual Natural Gas Vehicle Technology Forum (NGVTF) provides insights into advanced natural gas vehicle technologies and opportunities to discuss data and research on natural gas engines, vehicles, and infrastructure.
Learn about NGVTF's purpose, activities, meetings, stakeholders, and steering committee.
Purpose
Since 2008, the NGVTF has been led by the National Renewable Energy Laboratory (NREL) in partnership with the U.S. Department of Energy (DOE) and the California Energy Commission (CEC). The forum unites a diverse group of stakeholders to:
Share information and resources
Identify natural gas engine, vehicle, and infrastructure technology targets
Facilitate government-industry research, development, demonstration, and deployment (RDD&D) to achieve targets
Communicate high-priority needs of natural gas vehicle end-users to natural gas equipment and vehicle manufacturers
Enable fleets and large purchasers to aggregate demand for natural gas vehicles and equipment
Activities
The NGVTF uses the Natural Gas Vehicle Research Roadmap developed by the CEC as a foundation for its work. Based on natural gas vehicle (NGV) research, RDD&D gap analysis, and stakeholder views, the Roadmap suggests the following would accelerate commercialization of NGV technologies in the market:
Engine development and vehicle integration
Fueling infrastructure and storage
Technical and strategic studies.
Learn about CEC's Natural Gas Program.
Meetings
NGVTF meetings are free and open to stakeholders. Join the conversation about natural gas engines, vehicles, and infrastructure, codes and standards, and more. Information about upcoming meetings is posted here when it is available.
The 2023 annual meeting was held Jan. 31 to Feb. 1, 2023, in Downey, California. Please visit the 2023 NGVTF annual meeting page for more information about the event.
To receive updates about meetings and activities, contact NGVTF. For information about past meetings, see the NGVTF meeting archive.
Stakeholders
Examples of NGVTF stakeholders include:
Original equipment manufacturers
Vehicle and infrastructure packagers
National laboratories
Federal, state, and local government agencies
Industry and trade associations
Industry research groups and consultants
Utilities and fuel distributors
Fleet operators
Equipment suppliers
Nonprofit organizations
Clean Vehicle Education Foundation.
Steering Committee
The NGVTF Steering Committee oversees forum activities and channels communication among stakeholders. The committee includes personnel from:
California Energy Commission
South Coast Air Quality Management District
Natural Gas Vehicle for America
Supporting Members: NREL