National Parks Initiative
Clean Cities partners with the National Park Service (NPS) through the Clean Cities National Parks Initiative to support transportation projects that educate park visitors on the benefits of cutting petroleum use and vehicle emissions. Since 2010, Clean Cities and NPS have partnered on 35 projects to deploy alternative fuel and fuel-efficient vehicles to the road, reduce vehicle idling, and improve vehicle efficiency. These actions support and coincide with NPS's efforts to address climate change impacts.
Yellowstone National Park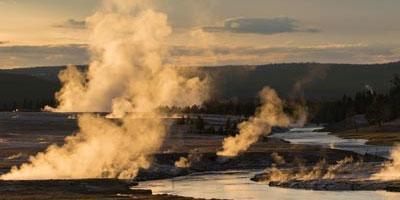 Old Faithful is a famous geyser attraction in Yellowstone known for its hot-water eruptions on a consistent schedule. Courtesy of NPS
Yellowstone National Park is deploying a plug-in electric vehicle and installing publicly accessible electric vehicle charging stations. The project supports a broader effort to expand clean transportation options within the Greater Yellowstone Ecosystem. The park has already deployed an electric utility vehicle, hybrid electric vehicles, and a hybrid electric bus. With help from the Yellowstone-Teton Clean Energy Coalition, the park is also enhancing public outreach for idle reduction efforts.
See how the Clean Cities National Parks Initiative supports parks transportation projects.
Outreach Products
Travel Choices Matter Infographic
Green Your Ride Fact Sheet
Green Rides Toolkit