A National Network of Local Coalitions
Find My Local Coalition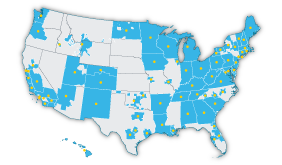 Clean Cities coalitions support the nation's energy and economic security by building partnerships to advance affordable domestic transportation fuels, energy efficient mobility systems, and other fuel-saving technologies and practices.
At the national level, the U.S. Department of Energy's Vehicle Technologies Office provides unbiased and objective resources and information to help transportation stakeholders evaluate options and achieve goals around alternative fuels, advanced vehicles, mobility solutions, and other fuel-saving strategies. At the local level, more than 75 coalitions leverage these resources to create networks of local stakeholders that advance transportation projects.
Learn how coalitions are creating significant and lasting change in communities large and small, one project, one local decision, and one fleet at a time.
National Network
Clean Cities collaborates with federal agencies, fuel providers, industry associations, equipment manufacturers, and large companies whose vehicle fleets operate in multiple states.
Local Coalitions
Coalitions serve as the foundation of Clean Cities by implementing transportation projects in communities across the country. These public-private partnerships are comprised of businesses, fuel providers, vehicle fleets, state and local government agencies, and community organizations.
These stakeholders share information and resources, inform public policy, educate the public, and collaborate on transportation projects. Connect with your local Clean Cities coalition contacts to learn more.
Making an Impact
About 275 million people (83% of the total U.S. population) live inside the boundaries of Clean Cities coalitions. Clean Cities coalitions make an impact in their communities every day. Nationwide, nearly 20,000 stakeholders participate in Clean Cities coalitions, and through their collective efforts they are transforming local and regional transportation markets.
Become a Clean Cities Stakeholder
Clean Cities coalition stakeholders have access to an array of resources, including:
Networking opportunities with fleets and industry partners who have experience in alternative fuels and advanced vehicle technologies
Technical training, workshops, and webinars
Information resources on alternative fuels, advanced vehicles, idle reduction, energy efficient mobility systems, and other fuel-saving strategies and technologies
Data-driven interactive tools, calculators, and mapping applications to determine an appropriate solution
Individual consultation and technical assistance
Funding opportunities from the U.S. Department of Energy
Information about funding sources from state and local government agencies, nonprofits, and foundations
Assistance with funding applications
Public recognition for progress in implementing alternative fuels and energy-efficient vehicle technologies
Assistance with media outreach.
To become a Clean Cities stakeholder, contact your local coalition.
Decades of Experience Driving Transportation Forward

After more than a quarter century, the mission of the Clean Cities coalitions is as relevant as ever. Coalitions are leaders in connecting fleets with the information, tools, contacts, and technical expertise they need to understand what alternative fuel vehicles, fueling infrastructure, new mobility solutions, and transportation technologies may be right for them.
Learn more about the history of Clean Cities coalitions, hear from coalition partners, and discover some of their most impactful transportation projects over the years in the video gallery below.
2019: Clean Cities 25th Anniversary Stakeholder Testimonials
In 2019, Clean Cities marked 25 years of progress building partnerships to advance affordable, domestic transportation fuels and technologies with testimonials from coalitions, stakeholders, and supporting members.
2017: Hydrogen Powers Fuel Cell Vehicles in California
2017: Johnson Space Center Explores Alternative Fuel Vehicles
2019
2017
2017
2017
2016
2015
2014
2013
2012
2011
2010
Watch more MotorWeek videos on the Clean Cities YouTube channel.
See how coalitions and their partners forge positive community change that adds up to make a big difference in the Clean Cities Coalition Accomplishments infographic.
History of Success
Explore Clean Cities coalition transportation accomplishments in this interactive timeline.
To share the Clean Cities 25th anniversary timeline on your website, blog, or social networking site, click the "Get Widget Code" link above.