Natural Gas Vehicle Technology Forum 2016 Meeting
The National Renewable Energy Laboratory (NREL), in partnership with the California Energy Commission (CEC) and the U.S. Department of Energy (DOE), held the 2016 Natural Gas Vehicle Technology Forum (NGVTF) on Oct. 18 and 19, 2016, in San Diego, California.
This meeting provided an opportunity for participants to gain a greater understanding of new developments in compressed natural gas, natural gas storage, and fueling infrastructure for natural gas vehicles. Participants will discuss regulations, market barriers, and opportunities for natural gas vehicle technologies.
Learn more about the event in the meeting summary.
Meeting Overview
Date: Oct. 18 – Oct. 19, 2016
San Diego Automotive Museum
2080 Pan American Plaza
San Diego, CA 92101
To request a specific presentation from this meeting that is not posted below, contact NGVTF.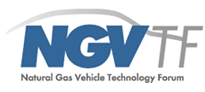 Agenda
This agenda includes presentations featured at the meeting.
More Information
For more information, contact John Gonzales.