Connecticut Southwestern Area Clean Cities
The Connecticut Southwestern Area Clean Cities works with vehicle fleets, fuel providers, community leaders, and other stakeholders to save energy and promote the use of domestic fuels and advanced vehicle technologies in transportation.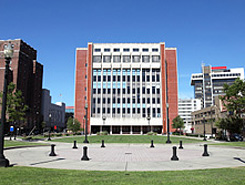 328 Flax Hill Rd
Norwalk, CT 06854

Daphne Dixon
Daphne Dixon serves as the Executive Director of Connecticut Southwestern Area Clean Cities Coalition and Live Green. The Coalition supports building partnerships to advance affordable, domestic fuels and technologies by hosting stakeholder listening sessions, infrastructure development and corridor planning, fuel/technology outreach and demonstration events as well as site visits and educational tours of fleet operations and infrastructure. Over the past ten years, Dixon's organization has educated over 25,000 people at over 200 sustainability conferences, trainings, workshops and festivals, including several successful Drive and Ride events. In 2018, she produced the Regional Conference on Sustainable Development: Transportation Forum, which featured leaders in Transit Oriented Development and attracted representatives from over 25 communities in the tri-state area.
In 2014, Dixon received the Community Partner Award from Norwalk Chamber of Commerce for her work in building partnerships and in 2015, she received the Green Award from TownVibe for her regional leadership in sustainability. She serves as chair of Sustainable Fairfield County, a regional organization that works to increase collaboration and awareness of solutions to environmental challenges, and is a member of Sustainable Fairfield Task Force where she supports alternative fuel technology and vehicle projects.
Dixon holds a Bachelor of Arts degree from the University of California, Los Angeles, in English and American Studies, is a Certified Master Gardener and is a member of the Climate Reality Project Leadership Corps.
General Stats
Designated: November 21, 1994
Population: 3,605,944 (based on 2021 Census estimate)
Area: 4,971 sq. mi.
Local/Regional Service Area: Counties: Fairfield, Litchfield
Extended Service Area: Statewide. Contact us to connect with the experts, resources, and information you need.
Alternative Fueling Stations
Including public and private stations

Biodiesel (B20 and above): 1
Electric (charging outlets): 1,854
Ethanol (E85): 3
Hydrogen: 0
Natural Gas: 13
Propane: 22
Energy Use Impact*
Annual Energy Impact
Annual Energy Impact by Alternative Fuel Vehicle Project Type
Emissions Reduced*
Annual Emissions Reduced
Emissions Reduced by Alternative Fuel Vehicle Project Type
*2021 DOE-Verified Metrics
Learn about just some of the projects from Connecticut Southwestern Area Clean Cities.