Connecticut Southwestern Area Clean Cities
The Connecticut Southwestern Area Clean Cities works with vehicle fleets, fuel providers, community leaders, and other stakeholders to save energy and promote the use of domestic fuels and advanced vehicle technologies in transportation.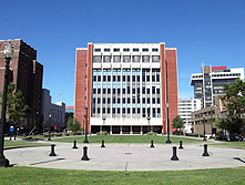 725 Old Post Rd
Fairfield, CT 06430

Ed Boman
Ed Boman has been a stakeholder of the Connecticut Southwestern Area Clean Cities coalition since 1995. In that time, he was the coordinator of energy alternatives, and the coalition received state and federal funding to install compressed natural gas stations in four municipalities and to buy over 40 vehicles. In 2009, he successfully partnered with three other Connecticut coalitions to obtain an over $13 million Clean Cities grant from the American Recovery and Reinvestment Act funds. That grant will bring the first liquid natural gas station to the East Coast and 18 heavy-duty liquid natural gas trucks online.
Boman has worked for over 30 years for the town of Fairfield, Connecticut, and during that time has been involved in obtaining over $50 million in grant funding for the town. For the last 15 years, he has been the town's energy manager and has added over 650 kW of onsite generating capacity through such technologies as a fuel cell, PV, microturbines using natural gas and waste methane, and a reciprocating generator. He also worked as a project manager for the development and construction of a 75-MW green-power, waste-to-energy facility in Bridgeport, Connecticut.
General Stats
Designated: November 21, 1994
Population: 949,921
Area: 649 sq. mi.
Boundary: Fairfield County
Alternative Fueling Stations
Including public and private stations
Biodiesel (B20 and above): 0
Natural Gas: 2
Ethanol (E85): 2
Electric: 228
Propane: 8
Energy Use Impact*
Annual Energy Impact
Annual Energy Impact by Alternative Fuel Vehicle Project Type
Emissions Reduced*
Annual Emissions Reduced
Emissions Reduced by Alternative Fuel Vehicle Project Type
*2016 DOE-Verified Metrics
Learn about just some of the projects from Connecticut Southwestern Area Clean Cities.