Southeast Louisiana Clean Fuel Partnership
The Southeast Louisiana Clean Fuel Partnership works with vehicle fleets, fuel providers, community leaders, and other stakeholders to save energy and promote the use of domestic fuels and advanced vehicle technologies in transportation.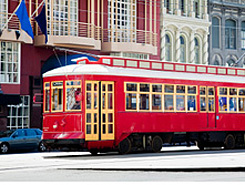 Regional Planning Commission
10 Veterans Blvd
New Orleans, LA 70124

Courtney Young
Courtney Young is Director of the Southeast Louisiana Clean Fuel Partnership. As manager of the New Orleans Regional Planning Commission's Clean Cities and Ozone Advance programs, she is working toward advancing energy efficiency and air quality improvements through strategic transportation planning and partnerships. She joined the Coalition through the U.S. Department of Energy Clean Cities University Workforce Development Program and has played an integral role in implementing alternative fuel fleet projects and events throughout the region.
Young holds a Master of Urban and Regional Planning from the University of New Orleans and a Journalism degree from Louisiana State University's Manship School of Mass Communication.
General Stats
Designated: March 26, 2008
Population: 1,384,810 (based on 2020 Census estimate)
Area: 4,505 sq. mi.
Local/Regional Service Area: Parishes (counties): Jefferson, Orleans (including the City of New Orleans), Plaquemines, St. Bernard, St. Charles, St. John the Baptist, St. Tammany, Tangipahoa
Energy Use Impact*
Annual Energy Impact
Annual Energy Impact by Alternative Fuel Vehicle Project Type
Emissions Reduced*
Annual Emissions Reduced
Emissions Reduced by Alternative Fuel Vehicle Project Type
*2020 DOE-Verified Metrics
Videos

New Orleans Provides Green Transportation

Propane Powers Airport Shuttles in New Orleans