Southeast Louisiana Clean Fuel Partnership
The Southeast Louisiana Clean Fuel Partnership works with vehicle fleets, fuel providers, community leaders, and other stakeholders to save energy and promote the use of domestic fuels and advanced vehicle technologies in transportation.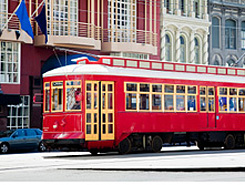 10 Veterans Blvd
New Orleans, LA 70124

Rebecca Otte
Rebecca Otte is the Clean Fuel Partnership Coordinator at the Regional Planning Commission (RPC) which includes eight parishes (counties) in southeast Louisiana: Jefferson, Orleans (includes the City of New Orleans), Plaquemines, St. Bernard, St. Charles, St. John the Baptist, St. Tammany, and Tangipahoa. Otte has served as the coordinator for the Southeast Louisiana Clean Fuel Partnership since 2007. She also oversees the RPC's Brownfield Redevelopment Program.
Prior to moving to New Orleans in 2003, Otte worked for four years as a staff engineer and project manager for an environmental consulting firm in Huntington Beach, California, where her projects included phase-one and -two environmental site assessments, underground storage tank removals and closures, aboveground tank installations, and environmental risk assessment and remediation of contaminated sites.
Otte has a Bachelor of Science in Civil Engineering from Valparaiso University and a Master of Urban and Regional Planning from the University of New Orleans. She also served as a Peace Corps volunteer in Mali, West Africa, in the water and sanitation division.
Courtney Young
Courtney Young is the Co-Coordinator of Southeast Louisiana Clean Fuel Partnership.
General Stats
Designated: March 26, 2008
Population: 1,386,892
Area: 5,050 sq. mi.
Boundary: Parishes (counties): Jefferson, Orleans (includes the City of New Orleans), Plaquemines, St. Bernard, St. Charles, St. John the Baptist, St. Tammany, Tangipahoa
Alternative Fueling Stations
Including public and private stations
Biodiesel (B20 and above): 0
Natural Gas: 2
Ethanol (E85): 2
Electric: 92
Propane: 14
Energy Use Impact*
Annual Energy Impact
Annual Energy Impact by Alternative Fuel Vehicle Project Type
Emissions Reduced*
Annual Emissions Reduced
Emissions Reduced by Alternative Fuel Vehicle Project Type
*2016 DOE-Verified Metrics
Videos

New Orleans Provides Green Transportation

Propane Powers Airport Shuttles in New Orleans