Lone Star Clean Fuels Alliance (Central Texas)
The Lone Star Clean Fuels Alliance (Central Texas) works with vehicle fleets, fuel providers, community leaders, and other stakeholders to reduce petroleum use in transportation.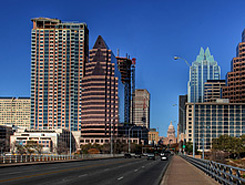 1253 State Hwy 304
Bastrop, TX 78602

Stacy Neef
Stacy Neef has served as the coordinator for Lone Star Clean Fuels Alliance (Austin) (LSCFA) promoting and advancing the use of alternative fuel and vehicles for fleets in central Texas since 2000. The central Texas region includes Bastrop, Caldwell, Hays, Travis, Williamson Counties; Fort Hood and City of Temple, Texas. LSCFA works closely with other Texas Clean Cities programs to bring educational opportunities to public and private fleets, alternative fuel, and related businesses.
Neef was awarded Central Region Coordinator of the Year in 2005 and has won numerous grants to bring compressed natural gas and liquefied petroleum gas rebate programs and infrastructure projects to the coalition. Prior to taking the coordinator position, Neef designed and implemented a recycling and solid-waste disposal program for residents of Bastrop County, Texas.
General Stats
Designated: April 18, 1994
Population: 1,883,051
Area: 4,296 sq. mi.
Boundary: Bastrop, Caldwell, Hays, Travis, Williamson Counties; Fort Hood; City of Temple, Texas
Alternative Fueling Stations
Biodiesel (B20 and above): 0
Natural Gas: 5
Ethanol (E85): 14
Electric: 683
Propane: 38
Petroleum Savings*
Annual Petroleum Savings
Annual Petroleum Savings by Alternative Fuel Vehicle Project Type
Greenhouse Gas Savings*
Annual Greenhouse Gas Emission Avoided
Greenhouse Gas Emission Reduced by Alternative Fuel Vehicle Project Type
*2015 DOE-Verified Metrics