Lone Star Clean Fuels Alliance (Central Texas)
The Lone Star Clean Fuels Alliance (Central Texas) works with vehicle fleets, fuel providers, community leaders, and other stakeholders to save energy and promote the use of domestic fuels and advanced vehicle technologies in transportation.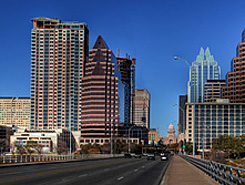 PO Box 30045
Austin, TX 78755

Elizabeth Munger
Elizabeth Munger has worked in the alternative fuels industry since 1995 in a variety of capacities. She was the first Director of the Laredo (Texas) Clean Cities Coalition, worked for the CLEAN AIR Force (Austin), and Gladstein, Neandross & Associates (Santa Monica, CA & Austin,TX) on a variety of alternative fuel and emissions reduction projects focusing on developing market opportunities for alternative fuels and emerging technologies.
She founded The Green Group where, as managing director, she continues business development in the alternative fuels industry working on DOE/Clean Cities projects and other business development/sales opportunities.
During her tenure at The Green Group, she worked for 15 years as a consultant to American Honda's Alternative Fuels Department. In this capacity, she promoted the company's hydrogen fuel cell, battery electric, and plug-in hybrid electric vehicles. Additionally, she was responsible for sales & marketing of the Civic Natural Gas through 45 Honda dealerships covering a 13-state area. She qualified fleets where a CNG sedan would be a good fit, identified applicable incentives, coordinated with local gas utilities, Clean Cities Coalitions, station builders, other NGV vehicle manufacturers and up-fitters, natural gas/alternative fuel associations to develop these markets.
Munger continues her work developing business opportunities in the alternative fuel/sustainable energy industries. She is pleased to have Lone Star Clean Fuels Alliance as a client, and to be the interim Executive Director. In this capacity she will work part-time with the Board and staff to identify a sustainable financial foundation and evaluate opportunities for AFV deployment and infrastructure development, as well as looking for interesting projects and project partners.
Munger holds a BS in Business Management & Marketing with a minor in Consumer Law from Roger Williams College and a MBA in International Marketing from the University of Rhode Island. She received a post graduate certificate of International Business from the Grand Ecole Superior de Commerce in Nantes, France.
General Stats
Designated: April 18, 1994
Population: 2,352,426 (based on 2021 Census estimate)
Area: 4,278 sq. mi.
Local/Regional Service Area: Counties: Bastrop, Caldwell, Hays, Travis, Williamson; Fort Hood, City of Temple
Alternative Fueling Stations
Including public and private stations

Biodiesel (B20 and above): 0
Electric (charging outlets): 1,728
Ethanol (E85): 14
Hydrogen: 0
Natural Gas: 5
Propane: 28
Energy Use Impact*
Annual Energy Impact
Annual Energy Impact by Alternative Fuel Vehicle Project Type
Emissions Reduced*
Annual Emissions Reduced
Emissions Reduced by Alternative Fuel Vehicle Project Type
*2021 DOE-Verified Metrics
Videos

Electric Vehicles in Rural Communities

Texas Law Enforcement Vehicles Fill up With Propane

CNG Shuttles Save Fuel Costs for R&R Limousine and Bus

Austin Lays Plans for Carbon-Neutral City Fleet