Denver Metro Clean Cities Coalition
The Denver Metro Clean Cities Coalition works with vehicle fleets, fuel providers, community leaders, and other stakeholders to save energy and promote the use of domestic fuels and advanced vehicle technologies in transportation.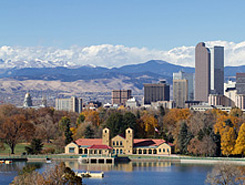 12650 W 64th Ave, Unit E #216
Arvada, CO 80004

Bonnie Trowbridge
Bonnie Trowbridge brings a deep knowledge of the market—from consumer EVs to alternative fuels to heavy-duty manufacturers and fleets, and a comprehensive understanding of the vehicle incentives arena across the U.S.—to her role as Executive Director for the Denver Metro Clean Cities Coalition. With over 25 years of experience in business development for nonprofits and corporations, Trowbridge is focused on achieving breathable air for everyone by advancing the clean transportation industry. Her past experience includes nonprofit development and fundraising, grant writing and management, and events management. She also spent 11 years in public relations and marketing for Lightning Systems, manufacturer of electric powertrains for medium- and heavy-duty buses and trucks, where she was instrumental in growing that company from a start-up to a thriving manufacturer. Her experience includes program management for CALSTART, a non-profit organization working to commercialize clean and efficient transportation solutions, where she led events such as a California policy summit, industry leader workshops, and utility engagement programs; and work as a development director for nonprofits in Denver and Washington, D.C.
General Stats
Designated: September 13, 1993
Population: 5,758,736 (based on 2019 Census estimate)
Area: 103,642 sq. mi.
Local/Regional Service Area: Counties: Adams, Arapahoe, Boulder, Broomfield, Clear Creek, Denver, Douglas, Eagle, Gilpin, Jefferson, Pitkin, Summit; City of Denver
Extended Service Area: Statewide. Contact us to connect with the experts, resources, and information you need.
Alternative Fueling Stations
Including public and private stations

Biodiesel (B20 and above): 6
Electric (charging outlets): 3,600
Ethanol (E85): 88
Hydrogen: 1
Natural Gas: 33
Propane: 52
Energy Use Impact*
Annual Energy Impact
Annual Energy Impact by Alternative Fuel Vehicle Project Type
Emissions Reduced*
Annual Emissions Reduced
Emissions Reduced by Alternative Fuel Vehicle Project Type
*2019 DOE-Verified Metrics
Learn about just some of the projects from Denver Metro Clean Cities Coalition. Visit the Denver Metro Clean Cities Coalition website for more projects and information.
Projects and Case Studies