Denver Metro Clean Cities Coalition
The Denver Metro Clean Cities Coalition works with vehicle fleets, fuel providers, community leaders, and other stakeholders to save energy and promote the use of domestic fuels and advanced vehicle technologies in transportation.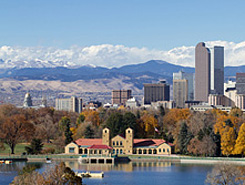 5600 Greenwood Plaza Blvd, Ste 100
Greenwood Village, CO 80111

Rachel Eisenstat
Rachel Eisenstat joined the Denver Metro Clean Cities Coalition as the Program Manager in 2018. She is responsible for running and developing the program in order to expand the Coalition's influence through the advocacy of petroleum reduction, management of programs, and expansion of technical literacy related to transportation issues. She consults frequently with the Denver Metro Clean Cities Coalition board, stakeholders, and funders to meet the deliverables for the Coalition required by the Department of Energy in addition to the coordination of the subcontractor or grant deliverables associated with new and existing projects related to Clean Cities.
Eisenstat earned her master's degree in Political Science from Colorado State University with concentrations in environmental politics and public policy. She previously served as a program manager for a non-profit collaborating with community partners to implement long-term care Medicaid policies. As a graduate student, she created a blog series on rural Colorado communities who are transitioning from coal-based economies to renewables and other more sustainable industries. She also served as an Energy Fellow with the Bighorn Leadership Program to brainstorm bipartisan policy solutions for Colorado's energy future.
General Stats
Designated: September 13, 1993
Population: 2,962,992
Area: 8,328 sq. mi.
Boundary: Counties: Adams, Arapahoe, Boulder, Broomfield, Clear Creek, Denver, Douglas, Eagle, Gilpin, Jefferson, Pitkin, Summit; City of Denver
Alternative Fueling Stations
Including public and private stations
Biodiesel (B20 and above): 3
Natural Gas: 16
Ethanol (E85): 26
Electric: 1103
Propane: 25
Petroleum Savings*
Annual Petroleum Savings
Annual Petroleum Savings by Alternative Fuel Vehicle Project Type
Greenhouse Gas Savings*
Annual Greenhouse Gas Emission Avoided
Greenhouse Gas Emission Reduced by Alternative Fuel Vehicle Project Type
*2015 DOE-Verified Metrics
Learn about just some of the projects from Denver Metro Clean Cities Coalition. Visit the Denver Metro Clean Cities Coalition website for more projects and information.
Also see: