Denver Metro Clean Cities Coalition
The Denver Metro Clean Cities Coalition works with vehicle fleets, fuel providers, community leaders, and other stakeholders to save energy and promote the use of domestic fuels and advanced vehicle technologies in transportation.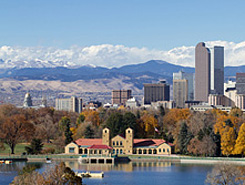 15400 W 64th Ave, Ste 9E #349
Arvada, CO 80007

Stephen Trowbridge
Steve Trowbridge, Coordinator of Denver Metro Clean Cities, has experience in almost every facet of the transportation industry, which has given him a unique insight into clean fuels and advanced technology. He spent 15 years with the Colorado Department of Transportation, starting as a snowplow driver and finishing as an eminent domain appraiser, testifying as an expert witness on several occasions. Trowbridge holds a Class A Driver's License with endorsements for Hazmat, Doubles/Triples and Tankers with experience operating, maintaining and repairing medium and heavy-duty commercial vehicles. As an integral part of a team representing the testing and development of hybrid trucks and buses, he consulted and coordinated with both engineers and mechanics to create maintenance plans, fleet analysis and training for advanced energy fleets. As his transportation career evolved, he became more aware of the industry impact on the air quality in Colorado and developed a passion for finding solutions for cleaner air.
Trowbridge graduated Cum Laude from Regis University with a Bachelor of Science in Business Administration.
Bonnie Trowbridge
Bonnie Trowbridge is the Co-Coordinator of Denver Metro Clean Cities Coalition.
General Stats
Designated: September 13, 1993
Population: 3,317,605 (based on 2018 Census estimate)
Area: 8,328 sq. mi.
Boundary: Counties: Adams, Arapahoe, Boulder, Broomfield, Clear Creek, Denver, Douglas, Eagle, Gilpin, Jefferson, Pitkin, Summit; City of Denver
Alternative Fueling Stations
Including public and private stations
Biodiesel (B20 and above): 2
Electric (charging outlets): 1,648
Ethanol (E85): 28
Hydrogen: 1
Natural Gas: 13
Propane: 24
Energy Use Impact*
Annual Energy Impact
Annual Energy Impact by Alternative Fuel Vehicle Project Type
Emissions Reduced*
Annual Emissions Reduced
Emissions Reduced by Alternative Fuel Vehicle Project Type
*2018 DOE-Verified Metrics
Learn about just some of the projects from Denver Metro Clean Cities Coalition. Visit the Denver Metro Clean Cities Coalition website for more projects and information.
Projects and Case Studies