Denver Metro Clean Cities Coalition
The Denver Metro Clean Cities Coalition works with vehicle fleets, fuel providers, community leaders, and other stakeholders to save energy and promote the use of domestic fuels and advanced vehicle technologies in transportation.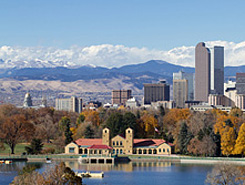 5600 Greenwood Plaza Blvd, Ste 100
Greenwood Village, CO 80111

Janna West-Heiss
Janna West-Heiss is the Denver Metro Clean Cities Coalition (DMCCC) Co-coordinator and is responsible for many of the day-to-day operations of the coalition. She runs programs and projects that displace petroleum and increase usage of alternative fuels in the transportation sector through collaboration with the DMCCC advisory board, stakeholders, and funders. West-Heiss received her B.S. in Natural Resources, Environmental Communication from Colorado State University and is currently pursuing her MBA in Managing for Sustainability at CU Denver.
West-Heiss's interest in working towards a cleaner, healthier planet aligns with the American Lung Association's mission and the Clean Cities program. She has relevant experience expanding zero waste policy and renewable energy with Eco-Cycle, the City of Boulder, and the Colorado Renewable Energy Society. She has also gained corporate culture experience as an event coordinator at Sustainable Brands in San Francisco. West-Heiss looks forward to using her background in program management, communication, and business outreach to improve local air quality as the Denver Clean Cities Co-coordinator.
General Stats
Designated: September 13, 1993
Population: 2,962,992
Area: 8,328 sq. mi.
Boundary: Counties: Adams, Arapahoe, Boulder, Broomfield, Clear Creek, Denver, Douglas, Eagle, Gilpin, Jefferson, Pitkin, Summit; City of Denver
Alternative Fueling Stations
Biodiesel (B20 and above): 3
Natural Gas: 16
Ethanol (E85): 25
Electric: 981
Propane: 25
Petroleum Savings*
Annual Petroleum Savings
Annual Petroleum Savings by Alternative Fuel Vehicle Project Type
Greenhouse Gas Savings*
Annual Greenhouse Gas Emission Avoided
Greenhouse Gas Emission Reduced by Alternative Fuel Vehicle Project Type
*2015 DOE-Verified Metrics
Learn about just some of the projects from Denver Metro Clean Cities Coalition. Visit the Denver Metro Clean Cities Coalition website for more projects and information.
Also see: