Clean Communities of Central New York (Syracuse)
The Clean Communities of Central New York (Syracuse) works with vehicle fleets, fuel providers, community leaders, and other stakeholders to save energy and promote the use of domestic fuels and advanced vehicle technologies in transportation.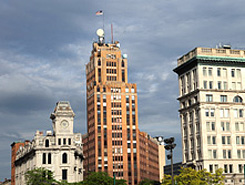 c/o Syracuse University Center of Excellence
727 E. Washington Street
Syracuse, NY 13210

Barry Carr
Barry Carr assumed the leadership of Clean Communities of Central New York (CC/CNY) in 2008. CC/CNY was formed in 1995 and was operated for many years by Joe Barry, who currently continues with the coalition as Director Emeritus. CC/CNY, in partnership with the other upstate New York coalitions, was recently successful in obtaining over $5 million in Recovery Act support.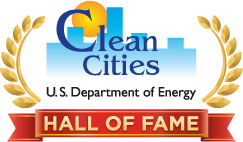 Carr currently is the Manager of Business Development for Landi Renzo USA; the world's leading supplier of alternative fuel systems for OEM partners. He has been providing support to the alternative fuels/alt fuel vehicle markets since 1988. In 2017, Carr was inducted into the Clean Cities Hall of Fame.

Veronica Cason
Veronica Cason is the Program Manager for the Clean Communities of Central New York Coalition
General Stats
Designated: June 15, 1995
Population: 1,397,759 (based on 2021 Census estimate)
Area: 10,592 sq. mi.
Local/Regional Service Area: Counties (including tribal lands): Broome, Cayuga, Hamilton, Madison, Oneida, Onondaga, Oswego, Schuyler, St. Lawrence, Tompkins; City of Syracuse
Alternative Fueling Stations
Including public and private stations

Biodiesel (B20 and above): 2
Electric (charging outlets): 1,117
Ethanol (E85): 2
Hydrogen: 0
Natural Gas: 4
Propane: 12
Energy Use Impact*
Annual Energy Impact
Annual Energy Impact by Alternative Fuel Vehicle Project Type
Emissions Reduced*
Annual Emissions Reduced
Emissions Reduced by Alternative Fuel Vehicle Project Type
*2021 DOE-Verified Metrics