National Parks Initiative
Clean Cities partners with the National Park Service (NPS) through the Clean Cities National Parks Initiative to support transportation projects that educate park visitors on the benefits of cutting petroleum use and vehicle emissions. Since 2010, Clean Cities and NPS have partnered on 35 projects to deploy alternative fuel and fuel-efficient vehicles to the road, reduce vehicle idling, and improve vehicle efficiency. These actions support and coincide with NPS's efforts to address climate change impacts.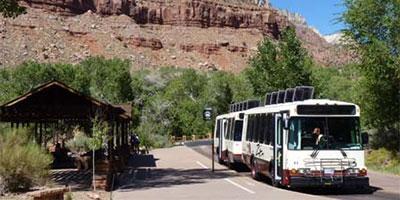 The Zion Canyon Scenic Drive is accessible only by the Zion Canyon Shuttle the majority of the year. Courtesy of NPS
In 2000, Zion National Park introduced a fleet of 21 shuttle buses, which are all powered by propane. By getting visitors out of their cars, the shuttles eliminate more than 5 million pounds of carbon dioxide emissions each year. Utah Clean Cities is working with park officials to expand Zion's use of alternative fuels by replacing three gasoline-powered vehicles with all-electric and plug-in hybrid electric vehicles, and installing 10 electric vehicle charging stations, five of which will be available for public use. The project also includes an idle-reduction education and outreach initiative.
See how the Clean Cities National Parks Initiative supports parks transportation projects.
Outreach Products
Travel Choices Matter Infographic
Green Your Ride Fact Sheet
Green Rides Toolkit