National Clean Fleets Partner: Best Buy
Best Buy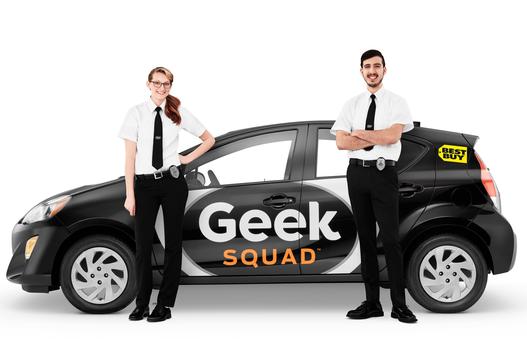 Strategies & Technologies
Fast Facts
1
Joined the National Clean Fleets Partnership: March 2012
2
Headquarters: Richfield, MN
3
Best Buy closely manages its fleet of more than 4,000 vehicles. In 2013, the company reduced carbon emissions by 16% using smaller vehicles and mapping out the most efficient routes. Best Buy also is reducing miles driven with empty trucks by backhauling waste for recycling partners. In 2013, Best Buy reduced 560,000 empty truck miles. The company also requires transportation partners to be certified through the U.S. Environmental Protection Agency's SmartWay program, follow the Coalition for Responsible Transportation's standards for using trucks and engines, and adhere to a "no idling" policy.
Clean Fleet News
04/11/2016
Best Buy's Geek Squad Rolls Out New Geekmobile, Updated Logo
Best Buy announced the dispatch of nearly 1,000 Toyota Prius c hybrids nationwide to serve as the company's new Geekmobile vehicles. The new Geekmobile, boldly bearing the updated logo, better reflects today's new Geek Squad — the nationwide tech-support task force that is continually expanding its services to keep pace with ever-changing technology.
When Geek Squad began more than 20 years ago, it was a small, local business dedicated solely to repairing personal computers. Now, it is a national organization of more than 20,000 agents who visit homes 13,000 times a day to help customers learn about and enjoy their technology.
Agents visit clients' homes more than 5 million times a year, and the Geekmobile has always been a highly recognized symbol of the Geek Squad brand. That tradition started with the original pistachio-green 1958 Simca Aronde Elysee and continues today with the rollout of the Prius c.
Geek Squad selected the Prius c because of its innovative engineering and environmental advantages. The Prius revolutionized the auto industry as the first mass-produced hybrid car.
The new, greener Geekmobile will cut the Geek Squad fleet's emissions by 50%, as compared with the previous vehicle, which rolled out nationwide in 2004. The switch to the hybrid will help Best Buy make significant progress toward its commitment to reducing its own carbon emissions by 45% by 2020.
For more information, see the full press release.