Western Washington Clean Cities
The Western Washington Clean Cities works with vehicle fleets, fuel providers, community leaders, and other stakeholders to save energy and promote the use of domestic fuels and advanced vehicle technologies in transportation.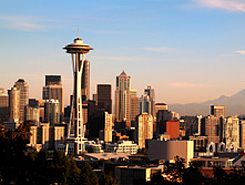 1904 Third Ave, Ste 105
Seattle, WA 98101

Kimberley Cline
Kimberley Cline, appointed co-coordinator of the Western Washington Clean Cities Coalition in June, 2014, coordinates partnerships, policy development, and outreach initiatives for the coalition. Her project-specific work focuses on building awareness of, and enthusiasm for, electric vehicles and supporting infrastructure. Cline also advocates for and develops local, state or federal policies to reduce greenhouse gases from transportation. Prior to joining Western Washington Clean Cities, she worked in communications, public relations and marketing spanning government, nonprofit and private sectors. She brings fourteen years of experience with environmental and public health issues, including air quality, alternative fuels, and international development.
Cline has a Master of Arts in International Environmental Policy from the Monterey Institute of International Studies where her studies focused on policies to stimulate the growth of renewable energy.
General Stats
Designated: August 13, 1998
Population: 5,120,727
Area: 21,289 sq. mi.
Boundary: Counties: Clallam, Grays Harbor, Jefferson, King, Kitsap, Lewis, Mason, Pacific, Pierce, San Juan Island, Skagit, Snohomish, Thurston, Whatcom
Alternative Fueling Stations
Including public and private stations
Biodiesel (B20 and above): 36
Electric (charging outlets): 2242
Ethanol (E85): 11
Hydrogen: 1
Natural Gas: 17
Propane: 53
Energy Use Impact*
Annual Energy Impact
Annual Energy Impact by Alternative Fuel Vehicle Project Type
Emissions Reduced*
Annual Emissions Reduced
Emissions Reduced by Alternative Fuel Vehicle Project Type
*2017 DOE-Verified Metrics
Learn about just some of the projects from Western Washington Clean Cities. Visit the Western Washington Clean Cities website for more projects and information.
Projects and Case Studies