Western Riverside County Clean Cities Coalition
The Western Riverside County Clean Cities Coalition works with vehicle fleets, fuel providers, community leaders, and other stakeholders to reduce petroleum use in transportation.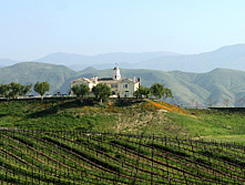 4080 Lemon St, 3rd Fl, MS 1032
Riverside, California 82501

Jennifer Ward
Jennifer Ward is Director of Government Relations for the Western Riverside Council of Governments (WRCOG) and Coordinator of Western Riverside County Clean Cities Coalition. She has over 5 years of experience working in both the Sustainability Planning and Government Relations program departments at WRCOG. Her experience includes monitoring and reviewing legislation, preparing grant proposals, outreach to local jurisdictions and regional agencies, and conducting research and coordination for WRCOG's major programs relating to Economic Development, Education, Healthcare, Transportation, Energy/Environment, and Water/Wastewater. Ward currently manages WRCOG's CAPtivate: A Healthy Western Riverside County program, a climate action plan implementation effort incorporating resiliency and healthy communities. She also oversees WRCOG's media relations & communications initiatives and is responsible for building and maintaining relationships with representatives from WRCOG's public sector members and private sector partners. Ward oversees the used oil & recycling programs, facilitates the WRCOG Planning Directors' Committee, and plays a key role in the administration of the Riverside County Water Task Force.
Ward has been a member of the U.S. Green Building Council – Inland Empire Chapter since 2011 and has served on the Board of Directors since January 2013. She received her Bachelor of Arts Degree in Environmental Analysis, Society Development and Policy from Claremont McKenna College located in Claremont, California.
WRCOG is a subregional planning agency that represents 17 cities in Western Riverside County, the County of Riverside, two regional water districts, the Riverside County Superintendent of Schools, and the Morongo Band of Mission Indians.
General Stats
Designated: October 24, 1997
Population: 243,794
Area: 69 sq. mi.
Boundary: Western Riverside County which includes the Cities of Banning, Calimesa, Corona, Hemet, Moreno Valley, Perris, Riverside, San Jacinto, Temecula, Wildomar and unincorporated areas in the western region of Riverside County.
Alternative Fueling Stations
Biodiesel (B20 and above): 0
Natural Gas: 5
Ethanol (E85): 1
Electric: 53
Propane: 7
Petroleum Savings*
Annual Petroleum Savings
Annual Petroleum Savings by Alternative Fuel Vehicle Project Type
Greenhouse Gas Savings*
Annual Greenhouse Gas Emission Avoided
Greenhouse Gas Emission Reduced by Alternative Fuel Vehicle Project Type
*2015 DOE-Verified Metrics