Western Riverside County Clean Cities Coalition
The Western Riverside County Clean Cities Coalition works with vehicle fleets, fuel providers, community leaders, and other stakeholders to save energy and promote the use of domestic fuels and advanced vehicle technologies in transportation.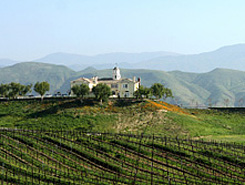 Kearns & West, Inc.
3750 University Ave, Ste 225
Riverside, CA 92501

Taylor York
Taylor York, Coordinator of Western Riverside County Clean Cities Coalition, is an Associate in Kearns & West, Inc. strategic communications practice, specializing in the fields of conservation, education, energy, air quality, and transportation. He has a diverse skill set, including project management, community engagement, collaboration, meeting facilitation, event planning, and material development. He has experience engaging a wide range of stakeholder groups, including public agencies, utilities, community groups, youth, and Native American tribes.
York's past experiences include a key role in the Western Riverside County Clean Cities Coalition, as well as the Western Riverside County Air Quality Extraordinaire program and the Environmental Youth Conference. As a Coalition leader, he focused on creating consensus and building public-private partnerships to promote and support alternative fuel vehicle adoption, public education, and planning and installation of associated fueling infrastructure – all with the goal of improving air quality in Western Riverside County. York currently serves as a Steering Committee Member for the Inland Empire Branch of the U.S. Green Building Council, Los Angeles.

Kyle Rodriguez
Kyle Rodriguez, Co-coordinator of Western Riverside County Clean Cities, is a staff analyst for the Environmental Programs for Western Riverside Council of Governments (WRCOG). WRCOG is a joint powers authority consisting of 17 cities, the County of Riverside, the Eastern and Western Municipal Water Districts, the Morongo Band of Mission Indians, and the Riverside County Superintendent of Schools. His environmental team is committed to assisting Riverside County with reducing the waste stream going to landfills and encouraging protection for the future environment. From litter control to used oil recycling, and encouraging alternatively fueled vehicles, WRCOG is leading the way with hands-on programs that empower both businesses and individuals. Rodriguez leads the team in public education for students to professionals. Outreach events range from school presentations; community car shows, citywide cleanups, and informative workshops for members of WRCOG.
General Stats
Designated: October 24, 1997
Population: 264,217 (based on 2019 Census estimate)
Area: 69 sq. mi.
Local/Regional Service Area: Western Riverside County, which includes the Cities of Banning, Calimesa, Corona, Hemet, Moreno Valley, Perris, Riverside, San Jacinto, Temecula, Wildomar, and unincorporated areas in the western region of Riverside County.
Alternative Fueling Stations
Including public and private stations

Biodiesel (B20 and above): 0
Electric (charging outlets): 135
Ethanol (E85): 4
Hydrogen: 0
Natural Gas: 3
Propane: 7
Energy Use Impact*
Annual Energy Impact
Annual Energy Impact by Alternative Fuel Vehicle Project Type
Emissions Reduced*
Annual Emissions Reduced
Emissions Reduced by Alternative Fuel Vehicle Project Type
*2019 DOE-Verified Metrics