Clean Communities of Western New York (Buffalo)
The Clean Communities of Western New York (Buffalo) works with vehicle fleets, fuel providers, community leaders, and other stakeholders to save energy and promote the use of domestic fuels and advanced vehicle technologies in transportation.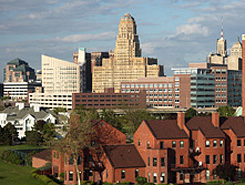 4424 Billo Rd
Clarence, NY 14031

Craig Jackson
Craig Jackson has been the Coordinator of Clean Communities of WNY since Nov. 2012. Jackson's role as coordinator is to assure that local partnerships are built to reduce petroleum use in transportation. Mr. Jackson has worked in the rotating equipment industry servicing the Oil & Gas, Power Generation and Air Separation markets for over 6 years. Jackson is the founder and chairman of CNG for Upstate NY, a group of regional companies interested in fostering learning, collaboration and action on CNG vehicle fueling and infrastructure as it relates to the Upstate New York region and natural gas utilization for transportation.
Mr. Jackson is currently employed with Cobey, Inc. as the Business Development Manager. In this role he brings creativity and focus to developing new and old markets for Cobey's portfolio of products. Mr. Jackson identifies and develops new business relationships with customers and end users alike. His most recent new market development is expressly focused on CNG filling stations and providing equipment required to pressurize, store and deliver natural gas for use with NGV's throughout the Northeastern USA.
Mr. Jackson holds a Bachelor of Science in Mechanical Engineering from the University at Buffalo and a Master of Business Administration in organizational development from Canisius College.
General Stats
Designated: November 04, 1994
Population: 1,390,144
Area: 5,014 sq. mi.
Boundary: Counties: Allegany, Cattaraugus, Chautauqua, Erie, Niagara; City of Buffalo
Alternative Fueling Stations
Including public and private stations
Biodiesel (B20 and above): 4
Natural Gas: 13
Ethanol (E85): 4
Electric: 165
Propane: 7
Energy Use Impact*
Annual Energy Impact
Annual Energy Impact by Alternative Fuel Vehicle Project Type
Emissions Reduced*
Annual Emissions Reduced
Emissions Reduced by Alternative Fuel Vehicle Project Type
*2016 DOE-Verified Metrics