State of West Virginia Clean Cities
The State of West Virginia Clean Cities works with vehicle fleets, fuel providers, community leaders, and other stakeholders to save energy and promote the use of domestic fuels and advanced vehicle technologies in transportation.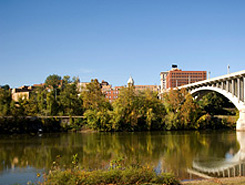 West Virginia Office of Energy
1900 Kanawha Blvd E, Bldg 3, Suite 600
Charleston, WV 25301

Kelly Bragg
Kelly Bragg has been the director of the State of West Virginia Clean Cities coalition and an energy development specialist for the West Virginia Division of Energy since 2006. She works to improve energy efficiency and the use of renewable energy technologies in West Virginia. Her recent focus areas have been building energy codes, alternative transportation fuels, and renewable energy.
Bragg joined the West Virginia Development Office in the marketing and communications division in November 1998. Before that, she was an editor at The Herald-Dispatch in Huntington and an editor and reporter at The Journal in Martinsburg.

Garrett Weaver
Garrett Weaver is an Energy Development Specialist for the West Virginia Department of Economic Development's Office of Energy. His expertise has focused primarily on Building Technologies at Municipal and State levels. While benchmarking school and state-owned buildings, Garrett became interested in beneficial electrification opportunities like electric vehicles and understands their importance in relation to building integration. Recognizing the importance of the Clean Cities mission, Garrett worked within his department to begin supporting the program as WV's Co-Director. Garrett also supports state grant efforts, in particular a small business grant that provides education for multiple energy sectors.
Garrett holds two bachelor's Degrees in Business Administration and Energy Management from Marshall University. He is the current President of the WV ASHRAE (formally known as American Society of Heating, Refrigerating and Air-Conditioning Engineers) Chapter and Director of the West Virginia Office of Coalfield Community Development.
General Stats
Designated: October 18, 1994
Population: 1,782,959 (based on 2021 Census estimate)
Area: 24,230 sq. mi.
Local/Regional Service Area: Entire state of West Virginia
Alternative Fueling Stations
Including public and private stations

Biodiesel (B20 and above): 1
Electric (charging outlets): 415
Ethanol (E85): 36
Hydrogen: 0
Natural Gas: 3
Propane: 16
Energy Use Impact*
Annual Energy Impact
Annual Energy Impact by Alternative Fuel Vehicle Project Type
Emissions Reduced*
Annual Emissions Reduced
Emissions Reduced by Alternative Fuel Vehicle Project Type
*2021 DOE-Verified Metrics
Learn about just some of the projects from State of West Virginia Clean Cities. Visit the State of West Virginia Clean Cities website for more projects and information.
Projects and Case Studies
Videos

Electric Vehicles Charge up at State Parks in West Virginia

West Virginia CNG Corridor Now Open