Vermont Clean Cities
The Vermont Clean Cities works with vehicle fleets, fuel providers, community leaders, and other stakeholders to save energy and promote the use of domestic fuels and advanced vehicle technologies in transportation.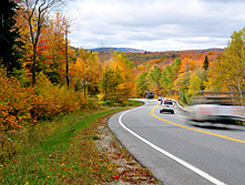 UVM Transportation Research Center
210 Colchester Ave, Farrell Hall
Burlington, VT 05405
Peggy O'Neill-Vivanco
Peggy O'Neill-Vivanco is a Clean Cities coordinator for Vermont Clean Cities.
General Stats
Designated: June 25, 2001
Population: 626,630
Area: 9,614 sq. mi.
Boundary: Entire state of Vermont
Alternative Fueling Stations
Biodiesel (B20 and above): 3
Natural Gas: 3
Ethanol (E85): 0
Electric: 478
Propane: 1
Petroleum Savings*
Annual Petroleum Savings
Annual Petroleum Savings by Alternative Fuel Vehicle Project Type
Greenhouse Gas Savings*
Annual Greenhouse Gas Emission Avoided
Greenhouse Gas Emission Reduced by Alternative Fuel Vehicle Project Type
*2015 DOE-Verified Metrics
Learn about just some of the projects from Vermont Clean Cities. Visit the Vermont Clean Cities website for more projects and information.
Also see: