Vermont Clean Cities
The Vermont Clean Cities works with vehicle fleets, fuel providers, community leaders, and other stakeholders to save energy and promote the use of domestic fuels and advanced vehicle technologies in transportation.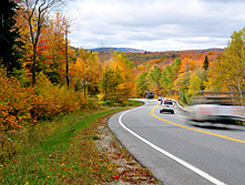 210 Colchester Ave, Farrell Hall
Burlington, VT 05405

Abby Bleything
Abby Bleything is the Vermont Clean Cities Coordinator (VTCCC) and Outreach Professional at the University of Vermont Transportation Research Center (TRC). As the state's Clean Cities Coordinator, she manages a state coalition and portfolio of activities designed to decrease the use of petroleum in the transportation sector. In addition to her Clean Cities role, Bleything works as the Sustainable Transportation Coordinator at the University of Vermont.
Bleything has worked in the transportation demand management field for 7 years, with an additional 2 years working on sustainable community development. She has experience building comprehensive state-wide programs, drafting bike and pedestrian improvement plans, and conducting trainings on best practices for creating livable communities. Prior to joining the TRC, she designed and launched the Vermont Safe Routes to School Resource Center, successfully engaging 85 schools, or 33% of the state's middle and elementary schools. Bleything has extensive experience building coalitions, growing initiatives, and creating long-term sustainable programs. Her work has also included writing community design guidelines, consulting on green building developments, and assisting with form-based code projects.
Bleything holds a Master of Science degree in Urban Policy Studies, is a Certified Planner (AICP), a LEED Accredited Professional, and a Certified Instructor for the Safe Routes to School National Course.
General Stats
Designated: June 25, 2001
Population: 626,630
Area: 9,614 sq. mi.
Boundary: Entire state of Vermont
Alternative Fueling Stations
Biodiesel (B20 and above): 3
Natural Gas: 3
Ethanol (E85): 0
Electric: 439
Propane: 2
Petroleum Savings*
Annual Petroleum Savings
Annual Petroleum Savings by Alternative Fuel Vehicle Project Type
Greenhouse Gas Savings*
Annual Greenhouse Gas Emission Avoided
Greenhouse Gas Emission Reduced by Alternative Fuel Vehicle Project Type
*2015 DOE-Verified Metrics
Learn about just some of the projects from Vermont Clean Cities. Visit the Vermont Clean Cities website for more projects and information.
Also see: