Vermont Clean Cities
The Vermont Clean Cities works with vehicle fleets, fuel providers, community leaders, and other stakeholders to save energy and promote the use of domestic fuels and advanced vehicle technologies in transportation.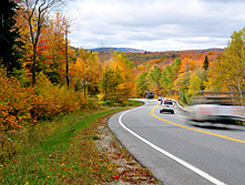 UVM Transportation Research Center
25 Colchester Ave, Mansfield House
Burlington, VT 05405

Peggy O'Neill-Vivanco
Peggy O'Neill-Vivanco is Coordinator of the Vermont Clean Cities Coalition. She is also a workforce outreach coordinator at the University of Vermont's Transportation Research Center, working on FHWA grants that explore and develop career pathways in environmental transportation disciplines, including shared mobility. O'Neill-Vivanco holds a MA degree from New York University. She is a year-round bike commuter and advocate for safe bicycle and pedestrian infrastructure for all users.
General Stats
Designated: June 25, 2001
Population: 626,299 (based on 2018 Census estimate)
Area: 9,614 sq. mi.
Boundary: Entire state of Vermont
Alternative Fueling Stations
Including public and private stations
Biodiesel (B20 and above): 2
Electric (charging outlets): 734
Ethanol (E85): 0
Hydrogen: 0
Natural Gas: 3
Propane: 1
Energy Use Impact*
Annual Energy Impact
Annual Energy Impact by Alternative Fuel Vehicle Project Type
Emissions Reduced*
Annual Emissions Reduced
Emissions Reduced by Alternative Fuel Vehicle Project Type
*2018 DOE-Verified Metrics
Learn about just some of the projects from Vermont Clean Cities. Visit the Vermont Clean Cities website for more projects and information.
Projects and Case Studies
Videos

Recycled Cooking Oil Powers Biodiesel Vehicles in Vermont

Lamoille Valley Ford Is #1 for Electric Vehicle Sales in Vermont