Tulsa Clean Cities
The Tulsa Clean Cities works with vehicle fleets, fuel providers, community leaders, and other stakeholders to save energy and promote the use of domestic fuels and advanced vehicle technologies in transportation.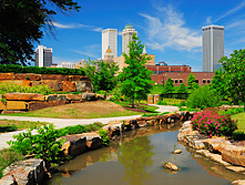 Indian Nations Council of Governments
2 W 2nd St, Ste 800
Tulsa, OK 74103
Adriane Jaynes
Adriane Jaynes is the Coordinator for Tulsa Area Clean Cities at Indian Nations Council of Governments (INCOG). Jaynes joined Tulsa Area Clean Cities 2011. She has a Master's Degree in Administration and Community Practice in Social Work from the University of Oklahoma. Prior to her work with INCOG, Jaynes worked for several nonprofit organizations in positions focused on advocacy, grant writing, administration, and communications.
General Stats
Designated: September 22, 1997
Population: 935,304
Area: 5,163 sq. mi.
Boundary: Counties: Creek, Osage, Rogers, Tulsa, Wagoner
Alternative Fueling Stations
Including public and private stations
Biodiesel (B20 and above): 0
Natural Gas: 24
Ethanol (E85): 16
Electric: 77
Propane: 18
Energy Use Impact*
Annual Energy Impact
Annual Energy Impact by Alternative Fuel Vehicle Project Type
Emissions Reduced*
Annual Emissions Reduced
Emissions Reduced by Alternative Fuel Vehicle Project Type
*2016 DOE-Verified Metrics
Learn about just some of the projects from Tulsa Clean Cities. Visit the Tulsa Clean Cities website for more projects and information.
Projects and Case Studies