Treasure Valley Clean Cities
The Treasure Valley Clean Cities works with vehicle fleets, fuel providers, community leaders, and other stakeholders to save energy and promote the use of domestic fuels and advanced vehicle technologies in transportation.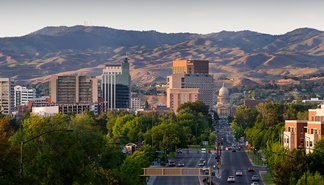 P.O. Box 500
Boise, ID 83701

Beth Baird
Beth Baird was involved in the development of the Treasure Valley Clean Cities coalition (TVCCC) and has been the coalition's coordinator since its designation in 2006.
Baird has been employed at the city of Boise Public Works Department for 14 years. During that time, she developed the air quality program for the city of Boise. Most recently, she has taken on responsibilities for the Climate Protection Program. Prior to working with the city of Boise, Baird held a variety of positions related to air quality management. She has worked for air-pollution-control agencies for Colorado and Idaho, for an environmental engineering firm, and as an independent contractor.
Baird has a master's degree in environmental management from the Duke University School of Forestry and Environmental Studies.

Jami Goldman
Jami Goldman is an Environmental Scientist with over ten years of experience developing and creating programs around key global, national and local environmental issues. She is currently the Climate and Sustainability Coordinator for the Climate Division at the City of Boise. Her primary tasks with the city are creating and implementing a Climate Action Roadmap for municipal operations and the community, engaging the community around key climate topics, and working with stakeholders internally and externally.
She has a Master's Degree in Environmental Science and Engineering from Oregon Health and Science University, a Master's Degree in Education from University of Portland, and a Bachelor's Degree in Environmental Science from University of Kansas.
General Stats
Designated: August 22, 2006
Population: 696,834 (based on 2019 Census estimate)
Area: 1,649 sq. mi.
Local/Regional Service Area: Counties: Ada, Canyon; City of Boise
Alternative Fueling Stations
Including public and private stations

Biodiesel (B20 and above): 0
Electric (charging outlets): 149
Ethanol (E85): 3
Hydrogen: 0
Natural Gas: 7
Propane: 7
Energy Use Impact*
Annual Energy Impact
Annual Energy Impact by Alternative Fuel Vehicle Project Type
Emissions Reduced*
Annual Emissions Reduced
Emissions Reduced by Alternative Fuel Vehicle Project Type
*2019 DOE-Verified Metrics
Learn about just some of the projects from Treasure Valley Clean Cities. Visit the Treasure Valley Clean Cities website for more projects and information.
Projects and Case Studies
Videos

Idaho Surges Ahead with Electric Vehicle Charging
Idaho Transports Mail and Reduces Emissions with Natural Gas Trucks

Idaho County Employs FFVs and Idle Reduction