Tampa Bay Clean Cities Coalition
The Tampa Bay Clean Cities Coalition works with vehicle fleets, fuel providers, community leaders, and other stakeholders to reduce petroleum use in transportation.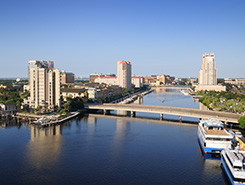 Center for Urban Transportation Research
4202 E Fowler Ave, CUT 100
Tampa, FL 33620

Stephen Reich
Stephen Reich has nearly thirty years of national and international executive management experience in both the public and private sectors. Since 2000 he has been with the University of South Florida's, Center for Urban Transportation Research (CUTR) managing a program area in a university transportation center focusing on providing technical assistance and research to public transportation agencies.
Prior to joining CUTR, Reich was the Senior Vice President for a global automotive safety supplier and from 1993 to 1997 he served as the Executive Secretary of the Maryland Transportation Authority, where he directed overall operation, maintenance, and development of Maryland's seven toll facilities. Before being appointed to the top toll position, He had a 14 year career with the Maryland Department of Transportation serving in a variety of positions including Assistant Deputy Secretary and Deputy Director, Office of Transportation Planning where he managed the DOT six year multi-modal Capital Program.
Reich is active in the area of new transportation technologies. He is the Coordinator for the Tampa Bay Clean Cities Coalition and works in the area of alternative transportation fuels and propulsion with the Florida Department of Transportation and the Federal Transit Administration. Other projects at CUTR have included assisting the largest transit agency in the state with revisions of their bus and rail fleet management procedures, staffed a legislatively created board charged with making policy recommendations on cleaner transportation fuels, and creation of life-cycle cost model to evaluate alternatively fuel transit buses. He is a regular panelist in the Tampa media market and has appeared on CNN and The News Hour with Jim Lehrer discussing transportation and energy issues.
General Stats
Designated: July 31, 2014
Population: 4,051,672
Area: 5,437 sq. mi.
Boundary: Hillsborough, Pinellas, Polk, Pasco, Manatee, and Sarasota counties
Alternative Fueling Stations
Biodiesel (B20 and above): 2
Natural Gas: 9
Ethanol (E85): 17
Electric: 407
Propane: 33
Petroleum Savings*
Annual Petroleum Savings
Annual Petroleum Savings by Alternative Fuel Vehicle Project Type
Greenhouse Gas Savings*
Annual Greenhouse Gas Emission Avoided
Greenhouse Gas Emission Reduced by Alternative Fuel Vehicle Project Type
*2015 DOE-Verified Metrics
Learn about just some of the projects from Tampa Bay Clean Cities Coalition. Visit the Tampa Bay Clean Cities Coalition website for more projects and information.
Also see: