Southern California Clean Cities Coalition
The Southern California Clean Cities Coalition works with vehicle fleets, fuel providers, community leaders, and other stakeholders to save energy and promote the use of domestic fuels and advanced vehicle technologies in transportation.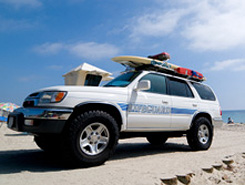 Southern California Association of Governments
900 Wilshire Blvd, Ste 1700
Los Angeles, CA 90017

Marco Anderson
Marco Anderson is a senior regional planner with the Southern California Association of Governments (SCAG) and was appointed coordinator of the Southern California Clean Cities Coalition in May, 2014. He currently works in the Sustainability Department focusing on integrating land use and transportation policy. Anderson is the project manager for the SCAG Electric Vehicle Readiness Program and is the deputy lead for the Sustainability Planning Grant Program which provides funding for local land use plans and studies. These efforts foster and implement the Sustainable Communities Strategy (SCS) principles of mobility, livability, prosperity, and sustainability. In the past he managed the Toolbox Tuesdays program of training sessions for planners from SCAG member jurisdictions. Mr. Anderson was also the SCAG project manager on a two year Caltrans Planning Grant lead by UCLA, studying the impact of high speed rail stations on local communities.
Before working at SCAG, Anderson was a transportation planner at a multi-disciplinary planning-engineering-architecture firm in Orange County and worked on a variety of transportation plans ranging from local access transit plans and traffic impact studies, to major sub-regional corridor plans.
Anderson is a founding member of Civic Projects Foundation, a non-profit think-tank that specializes in producing innovative planning products that address mobility, health, policy, and technology issues by intelligently combining planning, and design methods. He has been a member of the Car Futures Group since its inception, wrote two chapters, and assisted in editing the book The Future of the Car in 2035. He is also a regular participating member of Orange County Bicycle Tree, a local bike repair collective and low-income cycling advocacy non-profit.
Anderson left a career in corporate IT software sales to earn his Masters in Urban and Regional Planning from the University of California, Irvine. He earned his Bachelor of Arts degree in Film History from the University of California, Berkeley.
General Stats
Designated: March 01, 1996
Population: 6,392,417
Area: 28,705 sq. mi.
Boundary: Counties: Imperial, Los Angeles, Orange, San Bernardino, Ventura
Alternative Fueling Stations
Including public and private stations
Biodiesel (B20 and above): 5
Electric (charging outlets): 3443
Ethanol (E85): 26
Hydrogen: 8
Natural Gas: 64
Propane: 35
Energy Use Impact*
Annual Energy Impact
Annual Energy Impact by Alternative Fuel Vehicle Project Type
Emissions Reduced*
Annual Emissions Reduced
Emissions Reduced by Alternative Fuel Vehicle Project Type
*2017 DOE-Verified Metrics