Southern California Clean Cities Coalition
The Southern California Clean Cities Coalition works with vehicle fleets, fuel providers, community leaders, and other stakeholders to save energy and promote the use of domestic fuels and advanced vehicle technologies in transportation.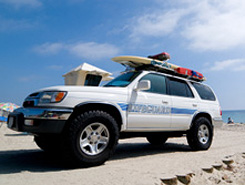 Southern California Association of Govenrments
900 Wilshire Blvd
Los Angeles, CA 90017
Alison Linder
Alison Linder, PhD, is a Senior Regional Planner at the Southern California Association of Governments (SCAG) where she works on transportation, sustainability, resilience, and environmental justice. As a Clean Cities Director, she focuses on strategies and partnerships to advance zero and near zero emission technologies across modes such as passenger, transit, freight and new mobility. She also leads the SCAG Accelerated Electrification Team to set a regional vision for a zero emission transportation system and to support the region in implementation. She serves on the California EPA's Electric Vehicle Battery Recycling Committee and is currently teaching Nature in the Urban Environment as an Adjunct Professor at the University of Southern California. Linder received her PhD in Urban Planning from the University of Southern California. For her dissertation, she focused on corporate environmental responsibility and the motivations for greening efforts at the ports.
General Stats
Designated: March 01, 1996
Population: 11,610,997 (based on 2021 Census estimate)
Area: 30,470 sq. mi.
Local/Regional Service Area: Counties: Imperial, Los Angeles, Orange, San Bernardino, Ventura
Alternative Fueling Stations
Including public and private stations

Biodiesel (B20 and above): 11
Electric (charging outlets): 11,300
Ethanol (E85): 135
Hydrogen: 22
Natural Gas: 110
Propane: 81
Energy Use Impact*
Annual Energy Impact
Annual Energy Impact by Alternative Fuel Vehicle Project Type
Emissions Reduced*
Annual Emissions Reduced
Emissions Reduced by Alternative Fuel Vehicle Project Type
*2021 DOE-Verified Metrics