South Shore Clean Cities
The South Shore Clean Cities works with vehicle fleets, fuel providers, community leaders, and other stakeholders to save energy and promote the use of domestic fuels and advanced vehicle technologies in transportation.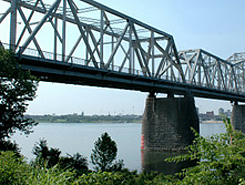 123 N Main St, Ste 202
Crown Point, IN 46307
Carl Lisek
Carl Lisek is vice president of Legacy Environmental Services and is the executive director for South Shore Clean Cities (SSCC) of northern Indiana. Lisek's wife, Lorrie, serves as executive leadership for SSCC and is the executive director for Wisconsin Clean Cities. The couple has been with the Clean Cities program since 2006.
Through local partnerships with business, industry, and state and local government agencies, SSCC has implemented numerous projects utilizing alternative fuels, vehicles, technology, and infrastructure that reduce our nation's dependence on foreign oil and improve air quality.
In 2012 South Shore Clean Cities received the Top Award for Overall Improvement in Petroleum Savings, Award for Greatest Increase in Biodiesel Fuel Use and Honorable Mention for Greatest Displacement of Petroleum Using Biodiesel Fuel. Lisek was also recognized in 2007 by U.S. Senator Richard Lugar as an Indiana Energy Patriot and continues to work to assist Indiana in becoming one of the nation's most progressive alternative fuel leaders.
General Stats
Designated: June 15, 1999
Population: 1,674,750
Area: 7,688 sq. mi.
Boundary: Counties: Benton, DeKalb, Elkhart, Fulton, Jasper, Kosciusko, LaGrange, Lake, LaPorte, Marshall, Newton, Noble, Porter, Pulaski, St. Joseph, Starke, Steuben, Whitley
Alternative Fueling Stations
Including public and private stations
Biodiesel (B20 and above): 1
Natural Gas: 6
Ethanol (E85): 72
Electric: 159
Propane: 20
Energy Use Impact*
Annual Energy Impact
Annual Energy Impact by Alternative Fuel Vehicle Project Type
Emissions Reduced*
Annual Emissions Reduced
Emissions Reduced by Alternative Fuel Vehicle Project Type
*2016 DOE-Verified Metrics
Learn about just some of the projects from South Shore Clean Cities. Visit the South Shore Clean Cities website for more projects and information.
Also see: