Silicon Valley Clean Cities (San Jose)
The Silicon Valley Clean Cities (San Jose) works with vehicle fleets, fuel providers, community leaders, and other stakeholders to save energy and promote the use of domestic fuels and advanced vehicle technologies in transportation.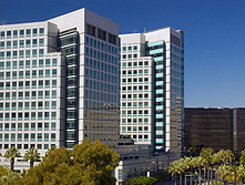 1469 Park Ave
San Jose, CA 95126

Margo Sidener
Margo Leathers Sidener has been a Clean Cities Director for 10 years. She has a Master's Degree in Health Education and has served Breathe California of the Bay Area, the host agency for Silicon Valley Clean Cities Coalition (SVCCC), for over 30 years, fighting for clean air and healthy lungs. She is currently CEO of that organization.
Her professional accomplishments include published articles and curricula; presentations at state, national, and international meetings; co-founding several coalitions and "collaboratives," and advocacy successes such as pushing through many clean air and tobacco control ordinances and being a member of the steering committee and a ballot signer for a key local, successful transportation initiative. Her favorite Clean Cities project was Zero Emissions Squared—coordinating the team that developed the first full-sized electric school bus, partially fueled by solar.
Sidener has shared her expertise as a member of numerous state and national-level boards, committees and task forces, including the Directors' Council of the Clean Cities Coalitions. She has also served on the volunteer side of several nonprofits and was a founder and twelve-year member of the board of the Silicon Valley Council of Nonprofits.
Before her long career with Breathe California and involvement with Clean Cities, Sidener worked as a teacher, grant abstractor, employment counselor, medical assistant, and in sales. She has been honored with: the 2010 Rising Star Award for Western Region, Clean Cities Coalition Directors, US DOE; Top 100 Women of Influence in Silicon Valley, 2009, Silicon Valley Business Journal; and the California Wellness Foundation Sabbatical Award, 2008.
General Stats
Designated: October 21, 1994
Population: 3,395,190 (based on 2021 Census estimate)
Area: 6,904 sq. mi.
Local/Regional Service Area: Counties (including tribal lands): Monterey, San Benito, San Mateo, Santa Clara, Santa Cruz
Alternative Fueling Stations
Including public and private stations

Biodiesel (B20 and above): 0
Electric (charging outlets): 9,118
Ethanol (E85): 9
Hydrogen: 9
Natural Gas: 12
Propane: 11
Energy Use Impact*
Annual Energy Impact
Annual Energy Impact by Alternative Fuel Vehicle Project Type
Emissions Reduced*
Annual Emissions Reduced
Emissions Reduced by Alternative Fuel Vehicle Project Type
*2021 DOE-Verified Metrics
Learn about just some of the projects from Silicon Valley Clean Cities (San Jose). Visit the Silicon Valley Clean Cities (San Jose) website for more projects and information.
Projects and Case Studies