San Diego Regional Clean Cities Coalition
The San Diego Regional Clean Cities Coalition works with vehicle fleets, fuel providers, community leaders, and other stakeholders to save energy and promote the use of domestic fuels and advanced vehicle technologies in transportation.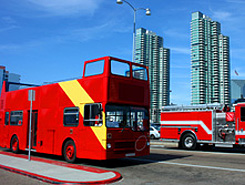 California Center for Sustainable Energy
9325 Sky Park Ct, Ste 100
San Diego, CA 92123

Kevin Wood
Kevin Wood is an associate program manager for transportation at the California Center for Sustainable Energy. He joined the San Diego Regional Clean Cities Coalition in 2011 and became co-coordinator in 2012. Wood works with a diverse group of public and private stakeholders to expand infrastructure and increase the use of alternative fuels in the region. He also performs outreach and analysis to help fleet operators and consumers make informed decisions about vehicle and fuel options.
Wood previously worked as a transportation planner and has extensive experience with local government sustainability initiatives with San Diego Association of Governments and the City of Los Angeles. He holds a M.A. in Urban Planning from the University of Southern California and a B.A. in Political Science from the University of California, San Diego.

Michael Terreri
Michael Terreri is the Co-Coordinator of San Diego Clean Cities and the Fleet Services Manager at Center for Sustainable Energy where he directs a wide range of federal, state and regional fleet inventive, technical assistance and continuing education initiatives. Terreri helps fleets successfully deploy advanced vehicle technologies to support emissions reductions, petroleum fuel displacement and cost reduction goals. Terreri has also worked for two other Clean Cities Coalitions: East Tennessee Clean Fuels (Knoxville, TN) and Genesee Region Clean Communities (Rochester, NY).
General Stats
Designated: December 12, 1996
Population: 3,211,252
Area: 4,243 sq. mi.
Boundary: San Diego County; City of San Diego
Alternative Fueling Stations
Biodiesel (B20 and above): 9
Natural Gas: 29
Ethanol (E85): 22
Electric: 1519
Propane: 18
Petroleum Savings*
Annual Petroleum Savings
Annual Petroleum Savings by Alternative Fuel Vehicle Project Type
Greenhouse Gas Savings*
Annual Greenhouse Gas Emission Avoided
Greenhouse Gas Emission Reduced by Alternative Fuel Vehicle Project Type
*2015 DOE-Verified Metrics