San Diego Regional Clean Cities Coalition
The San Diego Regional Clean Cities Coalition works with vehicle fleets, fuel providers, community leaders, and other stakeholders to save energy and promote the use of domestic fuels and advanced vehicle technologies in transportation.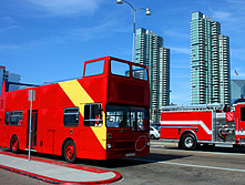 Center for Sustainable Energy
3980 Sherman Street, Suite 170
San Diego, CA 92110

Brittany Fields
Brittany Fields, Outreach Coordinator, has over four years of experience leading education and outreach activities to engage diverse audiences. An experienced communications and marketing professional, she applies her marketing expertise to ensure the content and messaging resonates with target audiences. At the Center for Sustainable Energy (CSE), Brittany develops and executes consumer and dealership outreach plans for clean transportation programs throughout California including the Clean Vehicle Rebate Project (CVRP). She also serves as a Coordinator for the San Diego Clean Cities Coalition holding webinars, performing stakeholder outreach, EV and EVI education and presenting case studies and lessons learned to Clean Cities Coalitions nationwide. Brittany is driven by her passion to create innovative solutions and build meaningful relationships to make a difference with underserved populations. Brittany holds a B.A. in Communication Studies from California State University-Sacramento.
General Stats
Designated: December 12, 1996
Population: 3,335,151 (based on 2019 Census estimate)
Area: 4,243 sq. mi.
Local/Regional Service Area: San Diego County; City of San Diego
Alternative Fueling Stations
Including public and private stations

Biodiesel (B20 and above): 7
Electric (charging outlets): 2,935
Ethanol (E85): 29
Hydrogen: 1
Natural Gas: 30
Propane: 16
Energy Use Impact*
Annual Energy Impact
Annual Energy Impact by Alternative Fuel Vehicle Project Type
Emissions Reduced*
Annual Emissions Reduced
Emissions Reduced by Alternative Fuel Vehicle Project Type
*2019 DOE-Verified Metrics
Learn about just some of the projects from San Diego Regional Clean Cities Coalition. Visit the San Diego Regional Clean Cities Coalition website for more projects and information.
Projects and Case Studies
Videos

San Diego Prepares for Electric Vehicles in Multi-Unit Dwelling Communities

Car2Go Launches Electric Carsharing Fleet in San Diego

San Diego Leads in Promoting EVs