Valley of the Sun Clean Cities Coalition (Phoenix)
The Valley of the Sun Clean Cities Coalition (Phoenix) works with vehicle fleets, fuel providers, community leaders, and other stakeholders to reduce petroleum use in transportation.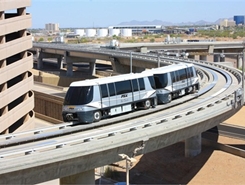 ASU SkySong Campus
1475 N Scottsdale Rd, #200
Scottsdale, AZ 85257-3538
Bill Sheaffer
Bill Sheaffer began serving as coordinator of the Valley of the Sun Clean Cities coalition in 2002 and now serves as the executive director of this all-volunteer coalition. The coalition has been actively involved with the state legislature as well as the key agencies, municipalities, and utilities.
The region reported 30.5 million gallons of petroleum fuel displaced in 2008, which included the new light rail system, new renewable fuel plants, and the lead of Valley Metro Transit System and Sky Harbor Airport—the nation's largest users of compressed natural gas and liquid natural gas.
Sheaffer also serves on the Scottsdale Energy Committee and as vice president of an Arizona biodiesel producer. He formerly served on the technical committee of South Coast Air Quality Management District and Energy Foundation of the University of California, Riverside. Sheaffer is active in outreach as a guest speaker at Arizona State University, Thunderbird School of International Business, University of Southern California, University of California–Los Angeles, and air quality and municipal organizations.

Teresa Valdez
Teresa Valdez joined Valley of the Sun Clean Cities in June 2015 as an Argonne National Labs intern and was assigned as co-coordinator in August 2015. She is studying Business with a concentration in Sustainability and Energy at Arizona State University and will graduate in May 2016. Valdez's duties as co-coordinator include community outreach, grant writing, event planning and promoting alternative fuels. Her interests include transportation and sustainable energy.
General Stats
Designated: October 08, 1997
Population: 4,584,438
Area: 53,910 sq. mi.
Boundary: Counties: Coconino, La Paz, Maricopa, Mohave, Yavapai; City of Phoenix
Alternative Fueling Stations
Biodiesel (B20 and above): 73
Natural Gas: 30
Ethanol (E85): 20
Electric: 754
Propane: 60
Petroleum Savings*
Annual Petroleum Savings
Annual Petroleum Savings by Alternative Fuel Vehicle Project Type
Greenhouse Gas Savings*
Annual Greenhouse Gas Emission Avoided
Greenhouse Gas Emission Reduced by Alternative Fuel Vehicle Project Type
*2014 DOE-Verified Metrics