Palmetto State Clean Fuels Coalition
The Palmetto State Clean Fuels Coalition works with vehicle fleets, fuel providers, community leaders, and other stakeholders to save energy and promote the use of domestic fuels and advanced vehicle technologies in transportation.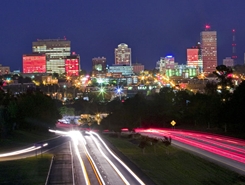 1401 Main St, Ste 900
Columbia, SC 29201

Maeve Mason
Maeve Mason is a Senior Energy Specialist with the SC Energy Office – Office of Regulatory Staff and coordinator for the Palmetto State Clean Fuels coalition. She holds a B.S. in Environmental Policy and Political Science from Central Michigan University and a M.S. in Environmental Studies from Ohio University. She is also a Certified Public Manager.
Mason was previously employed as a Program Manager in Regulatory Development at SC Department of Health and Environmental Control's Bureau of Air Quality where she directed planning and development of air quality regulations. She also developed amendments to the State Implementation Plan aimed at addressing the National Ambient Air Quality Standards (criteria pollutants). These efforts included developing partnerships and opportunities for collaboration with Air Quality Coalitions and various stakeholders to improve air quality.
Landon Masters
Landon Masters, co-coordinator for the Palmetto State Clean Fuels coalition since November 2015, is a native of the Upstate of South Carolina. He joined The SC Energy Office in 2014 as the Clean Cities University intern, helping to develop marketing materials, increase stakeholder participation and updating the coalition website. Masters is a recent graduate of the University of South Carolina, where he majored in Advertising, with a minor in Media Arts. As co-coordinator, his mission is to help drive the Clean Cities message to South Carolina citizens.
General Stats
Designated: January 28, 2004
Population: 4,774,839
Area: 30,951 sq. mi.
Boundary: Entire state of South Carolina
Alternative Fueling Stations
Biodiesel (B20 and above): 24
Natural Gas: 13
Ethanol (E85): 67
Electric: 546
Propane: 51
Petroleum Savings*
Annual Petroleum Savings
Annual Petroleum Savings by Alternative Fuel Vehicle Project Type
Greenhouse Gas Savings*
Annual Greenhouse Gas Emission Avoided
Greenhouse Gas Emission Reduced by Alternative Fuel Vehicle Project Type
*2015 DOE-Verified Metrics
Learn about just some of the projects from Palmetto State Clean Fuels Coalition. Visit the Palmetto State Clean Fuels Coalition website for more projects and information.
Also see: