Palmetto Clean Fuels Coalition
The Palmetto Clean Fuels Coalition works with vehicle fleets, fuel providers, community leaders, and other stakeholders to save energy and promote the use of domestic fuels and advanced vehicle technologies in transportation.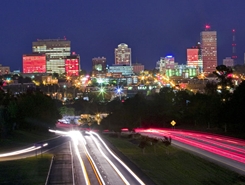 Office of Regulatory Staff
1401 Main St, Ste 900
Columbia, SC 29201

Landon Masters
Landon Masters is the Clean Transportation and Communications Specialist for the South Carolina Office of Regulatory Staff - Energy Office. He joined The Energy Office in 2014 as an intern for the Clean Cities University Workforce Development Program, helping to develop marketing materials, increase stakeholder participation, and update the coalition website. In November 2015, he accepted his current position as Coordinator for the Palmetto Clean Fuels coalition representing the State's efforts to administer the Department of Energy's Clean Cities Program. In addition, he maintains agency websites, coordinates events, and develops outreach and programming materials. Masters has a B.A. in Mass Communications and Advertising from the University of South Carolina.
General Stats
Designated: January 28, 2004
Population: 5,024,369
Area: 30,951 sq. mi.
Boundary: Entire state of South Carolina
Alternative Fueling Stations
Including public and private stations
Biodiesel (B20 and above): 24
Natural Gas: 11
Ethanol (E85): 67
Electric: 585
Propane: 50
Energy Use Impact*
Annual Energy Impact
Annual Energy Impact by Alternative Fuel Vehicle Project Type
Emissions Reduced*
Annual Emissions Reduced
Emissions Reduced by Alternative Fuel Vehicle Project Type
*2016 DOE-Verified Metrics
Learn about just some of the projects from Palmetto Clean Fuels Coalition. Visit the Palmetto Clean Fuels Coalition website for more projects and information.
Projects and Case Studies