Ocean State Clean Cities
The Ocean State Clean Cities works with vehicle fleets, fuel providers, community leaders, and other stakeholders to save energy and promote the use of domestic fuels and advanced vehicle technologies in transportation.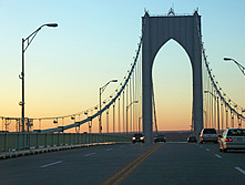 URI Transportation Center
75 Lower College Rd
Kingston, RI 02881

Wendy Lucht
As Ocean State Clean Cities Coordinator hosted at the University of Rhode Island (URI) Outreach Center, Wendy Lucht has helped with many alternative fuel projects within the state. She was instrumental in the launch of the state Electric Vehicle Charging Network, and has served on the state Transportation Energy Working Group helping the state to lead by example with the use of alternative fuels. She has represented the Northeast coalitions on the Clean Cities Council.
Prior to becoming Clean Cities Coordinator in 2008, Lucht was a Budget Analyst at the URI Budget Office, and a Manager at The Bay Institute of San Francisco. She has a Master's degree in Public Administration with a concentration in Environmental Policy from the Maxwell School of Citizenship and Public Affairs at Syracuse University. She also has a Bachelor's degree from Ithaca College in Ithaca, NY.
General Stats
Designated: September 14, 1998
Population: 1,051,511
Area: 1,089 sq. mi.
Boundary: Entire state of Rhode Island
Alternative Fueling Stations
Biodiesel (B20 and above): 6
Natural Gas: 4
Ethanol (E85): 0
Electric: 222
Propane: 6
Petroleum Savings*
Annual Petroleum Savings
Annual Petroleum Savings by Alternative Fuel Vehicle Project Type
Greenhouse Gas Savings*
Annual Greenhouse Gas Emission Avoided
Greenhouse Gas Emission Reduced by Alternative Fuel Vehicle Project Type
*2015 DOE-Verified Metrics
Learn about just some of the projects from Ocean State Clean Cities. Visit the Ocean State Clean Cities website for more projects and information.
Also see: