Ocean State Clean Cities
The Ocean State Clean Cities works with vehicle fleets, fuel providers, community leaders, and other stakeholders to save energy and promote the use of domestic fuels and advanced vehicle technologies in transportation.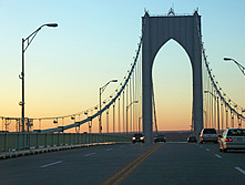 Rhode Island Office of Energy Resources
1 Capitol Hill, 4th Fl
Providence, RI 02908

Ryan Cote
Ryan Cote has been administering transportation programs and policies with the State of Rhode Island's Office of Energy Resources since 2011. In 2013 he helped coordinate the installation of 50 electric vehicle charging stations under the Recovery Act. He later became the program administrator for the Driving Rhode Island to Vehicle Electrification (DRIVE) rebate program, and currently manages the Charge Up! public sector vehicle electrification program. In addition to program management, Cote is developing strategies to ensure a minimum of 25% of light-duty state fleet acquisitions are zero emission vehicles by 2025 as part of the Lead by Example initiative.
Cote has been involved with the Ocean State Clean Cities program since 2013 and was appointed Coordinator of the Coalition in 2018. He holds a B.A. in Economics from the University of Rhode Island.
General Stats
Designated: September 14, 1998
Population: 1,059,639
Area: 1,089 sq. mi.
Boundary: Entire state of Rhode Island
Alternative Fueling Stations
Including public and private stations
Biodiesel (B20 and above): 5
Natural Gas: 4
Ethanol (E85): 0
Electric: 254
Propane: 6
Energy Use Impact*
Annual Energy Impact
Annual Energy Impact by Alternative Fuel Vehicle Project Type
Emissions Reduced*
Annual Emissions Reduced
Emissions Reduced by Alternative Fuel Vehicle Project Type
*2017 DOE-Verified Metrics
Learn about just some of the projects from Ocean State Clean Cities.
Projects and Case Studies
Videos

Cooking Oil Powers Biodiesel Vehicles in Rhode Island

Rhode Island EV Initiative Adds Chargers Across the State