North Florida Clean Fuels Coalition
The North Florida Clean Fuels Coalition works with vehicle fleets, fuel providers, community leaders, and other stakeholders to save energy and promote the use of domestic fuels and advanced vehicle technologies in transportation.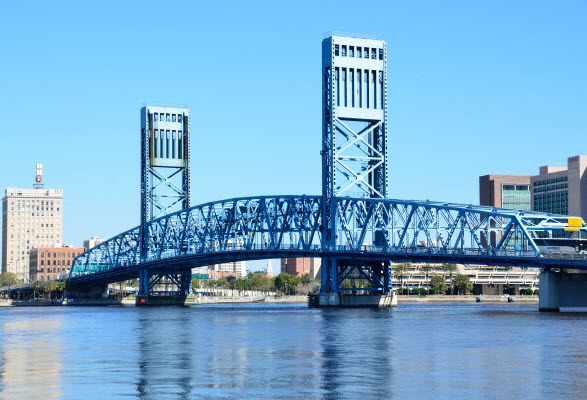 Elizabeth DeJesus
Elizabeth DeJesus is a 22-year transportation professional who joined the North Florida TPO in 1999. During her tenure Elizabeth has assumed increasing job responsibilities and currently coordinates the Transportation Disadvantaged (TD) program in Duval County which provides transportation for persons with disabilities and the elderly. In this role she staffs the TD Board, prepares annually the TD Service Plan and the CTC evaluation. She is also the TPO's regional bicycle and pedestrian coordinator whereby she coordinates studies and initiatives with the four counties in the TPO region. She has also been administering the five-county rideshare program Cool to Pool which provides car and vanpool services and education to businesses and citizens in Northeast Florida. Upon retirement this spring of the current Clean Fuels program manager, Elizabeth will coordinate the Clean Fuels Coalition in Northeast Florida.
Elizabeth received a Master's degree in Economic Development Planning from the University of Puerto Rico in 1997. She has previous experience working in customer service and market research.

Marci Larson
Marci Larson is the co-director for the North Florida Clean Cities Coalition. She is the Public Affairs Manager for the North Florida Transportation Planning Organization (North Florida TPO), the independent regional agency established by federal and state laws for transportation planning and prioritizing in Clay, Duval, Nassau and St. Johns Counties.
As the Public Affairs Manager, Marci handles organizational branding and visibility, external/public outreach, media and community relations, events planning, marketing for the Cool to Pool Rideshare Program, Smart North Florida and the North Florida Clean Cities Coalition, print and web site publication and committee interaction. Marci is responsible to enhance the TPO name recognition among elected officials, business and civic leaders, the media and the public, but also particularly with groups that are traditionally underserved and under involved.
No stranger to transportation, Marci has worked in communications, government and public affairs for Southern Railway, Norfolk Southern Corporation and Amtrak, all in Washington, D. C., and Amtrak and the Jacksonville Transportation Authority in Jacksonville. She is an Accredited Business Communicator from the International Assn. of Business Communicators.
General Stats
Designated: April 12, 2016
Population: 1,711,833 (based on 2021 Census estimate)
Area: 4,222 sq. mi.
Local/Regional Service Area: Counties: Baker, Clay, Duval, Nassau, Putnam, St. Johns
Alternative Fueling Stations
Including public and private stations

Biodiesel (B20 and above): 1
Electric (charging outlets): 674
Ethanol (E85): 29
Hydrogen: 0
Natural Gas: 7
Propane: 18
Energy Use Impact*
Annual Energy Impact
Annual Energy Impact by Alternative Fuel Vehicle Project Type
Emissions Reduced*
Annual Emissions Reduced
Emissions Reduced by Alternative Fuel Vehicle Project Type
*2021 DOE-Verified Metrics
Videos

Natural Gas Trains Make the Grade in Florida

Natural Gas Makes a Splash in Florida