North Dakota Clean Cities
The North Dakota Clean Cities works with vehicle fleets, fuel providers, community leaders, and other stakeholders to save energy and promote the use of domestic fuels and advanced vehicle technologies in transportation.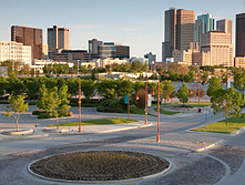 American Lung Association in MN
490 Concordia Ave
St. Paul, MN 55103

Robert Moffitt
Robert Moffitt is the coordinator for North Dakota Clean Cities and also serves as a spokesperson for Twin Cities Clean Cities Coalition. Moffitt is a director with the Clean Air team of the American Lung Association's Upper Midwest region. He joined the Lung Association in 2000, after providing communications management for a number of national and local health organizations. North Dakota Clean Cities is a partner in the Midwest EVOLVE project promoting electric vehicles in seven Midwestern states. Moffitt is also active in the M2M Project, which promotes alternative fuels and vehicles along the 1-94 corridor with Clean Cities partners from Michigan to Montana. His areas of expertise include using social and new media for public relations, government relations, traditional media relations, and speech writing.
General Stats
Designated: August 10, 1998
Population: 733,186 (based on 2018 Census estimate)
Area: 67,611 sq. mi.
Boundary: All counties in North Dakota excluding tribal lands.
Alternative Fueling Stations
Including public and private stations
Biodiesel (B20 and above): 1
Electric (charging outlets): 73
Ethanol (E85): 38
Hydrogen: 0
Natural Gas: 1
Propane: 23
Energy Use Impact*
Annual Energy Impact
Annual Energy Impact by Alternative Fuel Vehicle Project Type
Emissions Reduced*
Annual Emissions Reduced
Emissions Reduced by Alternative Fuel Vehicle Project Type
*2018 DOE-Verified Metrics