North Dakota Clean Cities
The North Dakota Clean Cities works with vehicle fleets, fuel providers, community leaders, and other stakeholders to save energy and promote the use of domestic fuels and advanced vehicle technologies in transportation.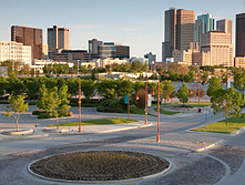 American Lung Association in MN
490 Concordia Ave
St. Paul, MN 55103

Robert Moffitt
Robert Moffitt is the acting coordinator for North Dakota Clean Cities. He also serves as a spokesperson for Twin Cities Clean Cities. Moffitt is the communications director for the Clean Fuel & Vehicle Technology program of the American Lung Association of the Upper Midwest. He joined the American Lung Association in Minnesota staff in 2000, after providing communications management at positions with HealthPartners, Regions Hospital and the American Academy of Neurology. His areas of expertise include using social and new media for public relations, traditional media relations and speech writing.
Moffitt has a BA degree in Telecommunications (radio and television) from Indiana University. He served in military public affairs for the U. S. Army Engineer Training Center at Ft. Belvoir, VA and for the 1st Armored Division. He has been a newspaper editor and has more than 25 years' experience as a spokesperson and communicator.
General Stats
Designated: August 10, 1998
Population: 731,675
Area: 67,611 sq. mi.
Boundary: All counties in North Dakota excluding tribal lands.
Alternative Fueling Stations
Including public and private stations
Biodiesel (B20 and above): 3
Natural Gas: 1
Ethanol (E85): 44
Electric: 28
Propane: 23
Energy Use Impact*
Annual Energy Impact
Annual Energy Impact by Alternative Fuel Vehicle Project Type
Emissions Reduced*
Annual Emissions Reduced
Emissions Reduced by Alternative Fuel Vehicle Project Type
*2016 DOE-Verified Metrics