Land of Enchantment Clean Cities (New Mexico)
The Land of Enchantment Clean Cities (New Mexico) works with vehicle fleets, fuel providers, community leaders, and other stakeholders to reduce petroleum use in transportation.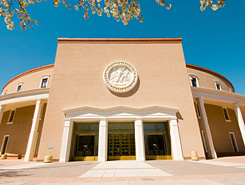 11621 San Antonio Dr NE
Albuquerque, NM 87122

Frank Burcham
Frank Burcham was a founding member of New Mexico's Land of Enchantment Clean Cities coalition in 1994. Since then, he has served on the board of directors, and in 2003, he became the state coordinator and executive director.
Burcham has 30 years of energy experience and background. His expertise spans utility operation, renewable and alternative energy research and development, and marketing and sales development. Burcham has previous experience with the Public Service Company of New Mexico, the Electric Power Research Institute, and independent consulting in alternative and renewable energy applications and market development.
Burcham has a Master of Science in Systems Management from the University of Southern California.
General Stats
Designated: June 01, 1994
Population: 2,085,287
Area: 121,593 sq. mi.
Boundary: Entire state of New Mexico
Alternative Fueling Stations
Biodiesel (B20 and above): 5
Natural Gas: 14
Ethanol (E85): 10
Electric: 135
Propane: 57
Petroleum Savings*
Annual Petroleum Savings
Annual Petroleum Savings by Alternative Fuel Vehicle Project Type
Greenhouse Gas Savings*
Annual Greenhouse Gas Emission Avoided
Greenhouse Gas Emission Reduced by Alternative Fuel Vehicle Project Type
*2015 DOE-Verified Metrics