New Jersey Clean Cities Coalition
The New Jersey Clean Cities Coalition works with vehicle fleets, fuel providers, community leaders, and other stakeholders to save energy and promote the use of domestic fuels and advanced vehicle technologies in transportation.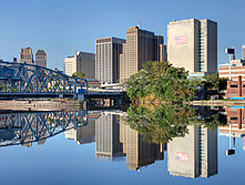 94 Church St, Ste 402
New Brunswick, NJ 08901

Chuck Feinberg
Chuck Feinberg is founder and Chairman of the Board of the 501(c)3 nonprofit NJ Clean Cities Coalition (NJCCC), which promotes public/private partnerships to advance the market for alternative fuels and advanced vehicles, fuel blends, fuel economy, hybrid vehicles, and idle reduction initiatives. Current projects include policy support and technology deployment to public and private fleets, including the use of compressed (and renewable) natural gas, propane, hydrogen, plug-in and hybrid electricity, and others. Feinberg lead a successful proposal effort and managed a $54 million project (including a $15 million US DOE grant) for the conversion of fleets of medium and heavy duty vehicles to CNG, and the installation of several CNG fueling stations across NJ. Additionally, he facilitates work groups on electric vehicles and on renewable natural gas, is a member of the North Jersey Transportation Management Authority Climate Change Workgroup, the NJ Renewable Natural Gas (Biomethane) Workgroup and of the Northeast Diesel Collaborative Clean Construction Workgroup.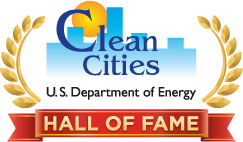 Feinberg is a co-founder of the Environmental Business Council of the Commerce and Industry Association of New Jersey, served as a member of the Board of Trustees of the national non-profit Transportation Energy Partners, and has been a member of the Rockaway Township (NJ) Environmental Commission. In addition, Feinberg is a Principal in the sustainability consulting firm, Greener by Design, LLC. He has a Bachelor of Science degree in Engineering from Tufts University, a law degree from New York Law School, and is admitted to the Bar in New Jersey and New York. In addition to several industry and peer recognitions, Feinberg is a 2018 inductee into the Clean Cities Hall of Fame.
General Stats
Designated: October 30, 1997
Population: 9,267,130 (based on 2021 Census estimate)
Area: 7,553 sq. mi.
Local/Regional Service Area: Entire state of New Jersey
Alternative Fueling Stations
Including public and private stations

Biodiesel (B20 and above): 5
Electric (charging outlets): 3,612
Ethanol (E85): 7
Hydrogen: 0
Natural Gas: 27
Propane: 16
Energy Use Impact*
Annual Energy Impact
Annual Energy Impact by Alternative Fuel Vehicle Project Type
Emissions Reduced*
Annual Emissions Reduced
Emissions Reduced by Alternative Fuel Vehicle Project Type
*2021 DOE-Verified Metrics
Learn about just some of the projects from New Jersey Clean Cities Coalition. Visit the New Jersey Clean Cities Coalition website for more projects and information.
Projects and Case Studies
Videos
Natural Gas Minibuses Help New Jersey Recover From Hurricane Sandy

New Jersey Utility Saves With Alternative Fuel