Massachusetts Clean Cities
The Massachusetts Clean Cities works with vehicle fleets, fuel providers, community leaders, and other stakeholders to save energy and promote the use of domestic fuels and advanced vehicle technologies in transportation.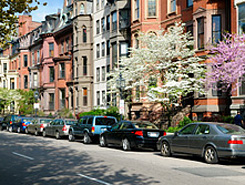 100 Cambridge St, Ste 1020
Boston, MA 02114

Stephen Russell
Stephen Russell became the co-coordinator of the Massachusetts Clean Cities coalition in September 2009. That same year, the coalition funded eight hybrid additions to a variety of light-, medium-, and heavy-duty trucks in both public and private fleets. In addition to his duties in the coalition, he is the alternative transportation program coordinator for the Massachusetts Department of Energy Resources.
Russell has been in the fleet-management industry for close to 20 years managing both private and public fleet operations. Most recently, Russell was the fleet superintendent for the city of Keene, New Hampshire. If it rolled in the city of Keene, Steve was responsible for keeping it rolling. The fleet vehicles included those used for city departments, including police, fire, rescue, public works, water, wastewater, and the recycling center. Russell pioneered the use of B20 (20% biodiesel, 80% petroleum diesel) over eight years ago, which has been recognized nationally for its introduction to city fleets. Russell has spoken both locally and nationally on the use of biofuels in fleet applications as well as other alternative transportation options for fleets.
Prior to joining the city of Keene, Russell was the fleet and procurement manager for Windshields America, a national auto glass company. Russell is on the board of directors of the New England chapter of the NAFA Fleet Management Association and is the fuel and technology chair for the national association.
Russell has a Bachelor of Science in Community Leadership and Development from Springfield College.
Mike Manning
Mike Manning is the director of marketing and business development at Alternative Vehicle Service Group LP (AVSG). AVSG is a Boston-based developer of compressed natural gas (CNG) infrastructure for the six-state New England region. As of October 2009, Manning is also a co-coordinator of the Massachusetts Clean Cities coalition.
Manning has worked in the CNG industry since 1993 when he joined Boston Gas Company. He continued this work through the merger with KeySpan Energy Delivery and then the acquisition by National Grid. During this time, he was involved in the siting and construction of 12 large full-public-access CNG stations as well as 30 smaller-scale, private-access CNG stations across Massachusetts. The development of this infrastructure allowed dozens of fleets throughout the state to deploy CNG vehicles of all types.
General Stats
Designated: March 18, 1994
Population: 6,859,819
Area: 8,118 sq. mi.
Boundary: Entire state of Massachusetts
Alternative Fueling Stations
Including public and private stations
Biodiesel (B20 and above): 10
Electric (charging outlets): 2333
Ethanol (E85): 6
Hydrogen: 2
Natural Gas: 16
Propane: 31
Energy Use Impact*
Annual Energy Impact
Annual Energy Impact by Alternative Fuel Vehicle Project Type
Emissions Reduced*
Annual Emissions Reduced
Emissions Reduced by Alternative Fuel Vehicle Project Type
*2017 DOE-Verified Metrics
Learn about just some of the projects from Massachusetts Clean Cities. Visit the Massachusetts Clean Cities website for more projects and information.
Projects and Case Studies
Videos

Worcester Regional Transit Authority Drives Electric

Boston Public Schools Moves to Propane