Massachusetts Clean Cities
The Massachusetts Clean Cities works with vehicle fleets, fuel providers, community leaders, and other stakeholders to save energy and promote the use of domestic fuels and advanced vehicle technologies in transportation.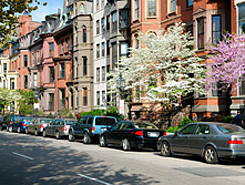 Massachusetts Department of Energy Resources
100 Cambridge Street, Suite 1020
Boston, MA 02114

John Liriano
John Liriano, coordinator for Massachusetts Clean Cities Coalition, is an advocate for social justice and public health. Over the past ten years, he has worked in different sectors within the Cities of Boston and Washington DC to promote health, education, policy, research, and environmental safety. Liriano previously worked as a Legislative Aide in the Massachusetts House of Representatives.
Throughout his career, he developed a profound interest in the energy sector and environmental justice issues. As the new Emerging Technology Program Coordinator, Liriano is excited to bring his previous experience and interest in technology and environmental issues to this new role.

Mike Manning
Mike Manning is the director of marketing and business development at Alternative Vehicle Service Group LP (AVSG). AVSG is a Boston-based developer of compressed natural gas (CNG) infrastructure for the six-state New England region. As of October 2009, Manning is also a co-coordinator of the Massachusetts Clean Cities coalition.
Manning has worked in the CNG industry since 1993 when he joined Boston Gas Company. He continued this work through the merger with KeySpan Energy Delivery and then the acquisition by National Grid. During this time, he was involved in the siting and construction of 12 large full-public-access CNG stations as well as 30 smaller-scale, private-access CNG stations across Massachusetts. The development of this infrastructure allowed dozens of fleets throughout the state to deploy CNG vehicles of all types.
General Stats
Designated: March 18, 1994
Population: 6,902,149 (based on 2018 Census estimate)
Area: 8,118 sq. mi.
Boundary: Entire state of Massachusetts
Alternative Fueling Stations
Including public and private stations

Biodiesel (B20 and above): 9
Electric (charging outlets): 3,436
Ethanol (E85): 7
Hydrogen: 1
Natural Gas: 14
Propane: 29
Energy Use Impact*
Annual Energy Impact
Annual Energy Impact by Alternative Fuel Vehicle Project Type
Emissions Reduced*
Annual Emissions Reduced
Emissions Reduced by Alternative Fuel Vehicle Project Type
*2018 DOE-Verified Metrics
Learn about just some of the projects from Massachusetts Clean Cities. Visit the Massachusetts Clean Cities website for more projects and information.
Projects and Case Studies
Videos

Worcester Regional Transit Authority Drives Electric

Boston Public Schools Moves to Propane