State of Maryland Clean Cities
The State of Maryland Clean Cities works with vehicle fleets, fuel providers, community leaders, and other stakeholders to reduce petroleum use in transportation.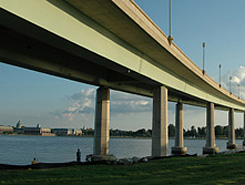 60 West St, Ste 300
Annapolis, MD 21401

Chris Rice
Christopher Rice manages the Clean Cities and Transportation programs for the Maryland Energy Administration. In this capacity he works with fleets, fuel distributors, engine manufactures and fuel producers to increase the utilization of alternative fuels. He currently sits on the Maryland Electric Vehicle Infrastructure Council. Current projects include; the Electric Vehicle Excise Tax Credit Program, EVSE Rebate Program, Maryland Freedom Fleet Voucher Program, Idle Reduction Technology Grant Program, Natural Gas Refilling Station Grant Program, DC Fast Charger Grant Program and the EVSE at Maryland Train Station initiative. Rice installed 81 publically accessible electric vehicle charging stations through the Electric Vehicle Infrastructure Program at the end of 2011. In addition, he managed the Maryland Hybrid Truck Movement Initiative, which assisted five national fleets in purchasing 143 heavy duty hybrid trucks.
His past projects include: PSC Case No. 9261, anaerobic digestion, biomass combustion/gasification, biodiesel consumption/production, ethanol consumption/production, CNG, propane, hybrid electric, hydraulic hybrid and all electric vehicles, farm energy audits and landfill gas. In addition, Rice runs the Renewable Electricity Production Tax Credit Program and the Bio-Heating Oil Tax Credit Program.
Rice sat on the North East Regional Biomass Steering Committee, ARC Energy Committee, Renewable Fuels Taskforce, LNG Taskforce and the Chesapeake Bay Commission's study on cellulosic ethanol.
He graduated from the University of Georgia with a Bachelor of Science degree in Biology in 2001.
General Stats
Designated: October 07, 1994
Population: 5,928,814
Area: 10,365 sq. mi.
Boundary: Entire state of Maryland
Alternative Fueling Stations
Biodiesel (B20 and above): 9
Natural Gas: 11
Ethanol (E85): 33
Electric: 809
Propane: 31
Petroleum Savings*
Annual Petroleum Savings
Annual Petroleum Savings by Alternative Fuel Vehicle Project Type
Greenhouse Gas Savings*
Annual Greenhouse Gas Emission Avoided
Greenhouse Gas Emission Reduced by Alternative Fuel Vehicle Project Type
Learn about just some of the projects from State of Maryland Clean Cities. Visit the State of Maryland Clean Cities website for more projects and information.
Also see: