State of Maryland Clean Cities
The State of Maryland Clean Cities works with vehicle fleets, fuel providers, community leaders, and other stakeholders to save energy and promote the use of domestic fuels and advanced vehicle technologies in transportation.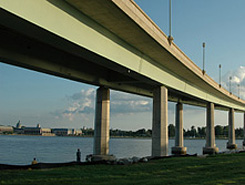 Maryland Energy Administration Office
1800 Washington Blvd, Ste 755
Baltimore, MD 21230

Mike Jones
Mike Jones serves as the State of Maryland Clean Cities Director and Transportation Program Manager for the Maryland Energy Administration (MEA). He manages several programs which aim to displace petroleum use and reduce emissions while stimulating economic growth. Jones also conducts research and outreach for a variety of initiatives and policies that promote alternative fuel vehicles and infrastructure. Having been with the agency since 2013, he has also provided grant management for several local municipality energy projects and for a resiliency incentive program for back-up power generators.
Prior to his time at the MEA, Jones interned at the U.S. Environmental Protection Agency, where he supported multiple projects which sought to help states use renewable energy and energy efficiency to meet air quality standards. Jones graduated from the University of Maryland with a Bachelor of Science degree in Environmental Policy, along with a minor in Sustainability Studies. While at the University of Maryland, he was a Fellow of the Federal Semester Program, a selective year-long program which aims to develop insight into federal energy and environmental policy.
General Stats
Designated: October 07, 1994
Population: 6,177,224 (based on 2020 Census estimate)
Area: 9,876 sq. mi.
Local/Regional Service Area: Entire state of Maryland
Alternative Fueling Stations
Including public and private stations

Biodiesel (B20 and above): 24
Electric (charging outlets): 4,029
Ethanol (E85): 56
Hydrogen: 0
Natural Gas: 15
Propane: 36
Energy Use Impact*
Annual Energy Impact
Annual Energy Impact by Alternative Fuel Vehicle Project Type
Emissions Reduced*
Annual Emissions Reduced
Emissions Reduced by Alternative Fuel Vehicle Project Type
*2020 DOE-Verified Metrics
Learn about just some of the projects from State of Maryland Clean Cities. Visit the State of Maryland Clean Cities website for more projects and information.
Projects and Case Studies
Videos
Maryland State Fleet Commits to Zero-Emission Vehicles

Veolia Transportation Converts Taxi Fleet to Propane

Maryland Conserves Fuel With Hybrid Trucks

Hybrid Electric Shuttle Buses Offer Free Rides in Maryland