Maine Clean Communities
The Maine Clean Communities works with vehicle fleets, fuel providers, community leaders, and other stakeholders to save energy and promote the use of domestic fuels and advanced vehicle technologies in transportation.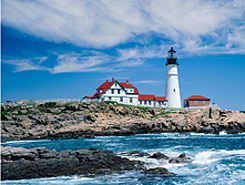 970 Baxter Blvd. Ste 201
Portland, ME 04103

Benjamin Lake
Benjamin Lake is the Coordinator of the Maine Clean Communities (MC2) Clean Cities Coalition, housed at the Greater Portland Council of Governments (GPCOG) in Portland, Maine. He joined GPCOG and MC2 in 2009, and assumed the role of Coordinator in August 2015. Lake provides fuel neutral support for the local alternative fuel market through outreach, grant management, alternative fuel education, event coordination, and development of capital replacement and alternative fuel switching cost-benefit analyses for MC2 projects and stakeholders.
Lake also provides planning support and technical assistance to GPCOG communities and public transportation agencies in the areas of transit planning, multi-modal transportation infrastructure, climate and energy planning, demographic data management, grant writing, ridership surveying, and alternative transportation fuels capital planning and assessment.
Lake holds a B.A. in Biology from Bowdoin College in Brunswick, Maine.
General Stats
Designated: September 04, 1997
Population: 1,335,907
Area: 32,495 sq. mi.
Boundary: Entire state of Maine
Alternative Fueling Stations
Including public and private stations
Biodiesel (B20 and above): 4
Natural Gas: 2
Ethanol (E85): 1
Electric: 306
Propane: 13
Energy Use Impact*
Annual Energy Impact
Annual Energy Impact by Alternative Fuel Vehicle Project Type
Emissions Reduced*
Annual Emissions Reduced
Emissions Reduced by Alternative Fuel Vehicle Project Type
*2017 DOE-Verified Metrics
Learn about just some of the projects from Maine Clean Communities. Visit the Maine Clean Communities website for more projects and information.
Projects and Case Studies
Videos

Greater Portland Transit District Looks Forward with Natural Gas

Maine's Only Biodiesel Manufacturer Powers Fleets in the Region

Propane Buses Shuttle Visitors in Maine