Los Angeles Clean Cities Coalition
The Los Angeles Clean Cities Coalition works with vehicle fleets, fuel providers, community leaders, and other stakeholders to save energy and promote the use of domestic fuels and advanced vehicle technologies in transportation.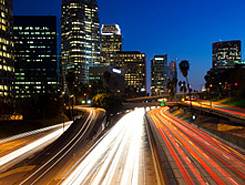 City of Los Angeles
1149 S. Broadway
Los Angeles, CA 90015

Jim Marchese
Jim Marchese is Manager of the Regulatory Affairs Division for LA Sanitation & Environment (LASAN) which is a metropolitan utility serving the City of Los Angeles. Related to the Clean Cities program, Jim manages the LASAN Climate Action program which prepares environmental data and information for City-wide policy development and action on climate change impacts including GHG accounting, mitigation strategies and adaptation projects. Additionally, Jim participates in developing Strategic Plans and in the implementation of LASAN's Environmental Justice program.
In 2017, Jim led the efforts to partner with the Department of Energy on the Better Plants program which works with leading U.S. manufacturers and wastewater treatment agencies to set ambitious energy, water, waste, and carbon reduction goals. In 2018, LASAN received the Better Project Award for implementation of the digester biogas generation & CHP project at the Hyperion Water Reclamation Plant to produce electricity and heat and reduce the plant's energy intensity.
Jim was appointed Coalition Director of the Los Angeles Clean Cities Coalition in September 2022. In his new role, Jim is looking to partner with fleet and fuel managers to advance affordable, domestic transportation fuels, energy efficient mobility systems, and other fuel-saving technologies and practices within the City of Los Angeles fleets. Additional opportunities include a refresh on public education and outreach efforts promoting alternative fueled vehicles and technologies within the City of Los Angeles.
Jim has worked for LA Sanitation and the Environment since 2001, providing regulatory, legislative, technical, environmental analysis, contract management, and policy support for LASAN's Clean Water, Climate Action, Renewable Energy, Solid Resources and Sustainability Programs. Previously, Jim worked for a multi-national energy production company managing large scale regulatory oversight transfer projects and conducting international audits.
Jim earned a bachelors from University California at Santa Barbara and is a Board-Certified Environmental Scientist with the American Academy of Environmental Engineers and Scientists.
General Stats
Designated: March 22, 1996
Population: 3,849,306 (based on 2021 Census estimate)
Area: 473 sq. mi.
Local/Regional Service Area: City of Los Angeles
Alternative Fueling Stations
Including public and private stations

Biodiesel (B20 and above): 1
Electric (charging outlets): 5,967
Ethanol (E85): 28
Hydrogen: 7
Natural Gas: 50
Propane: 20
Energy Use Impact*
Annual Energy Impact
Annual Energy Impact by Alternative Fuel Vehicle Project Type
Emissions Reduced*
Annual Emissions Reduced
Emissions Reduced by Alternative Fuel Vehicle Project Type
*2021 DOE-Verified Metrics
Learn about just some of the projects from Los Angeles Clean Cities Coalition. Visit the Los Angeles Clean Cities Coalition website for more projects and information.
Projects and Case Studies
Videos

Los Angeles Public Works Fleet Converts to Natural Gas

Los Angeles Saves With Hybrid and Plug-In Electric Vehicles