Los Angeles Clean Cities Coalition
The Los Angeles Clean Cities Coalition works with vehicle fleets, fuel providers, community leaders, and other stakeholders to reduce petroleum use in transportation.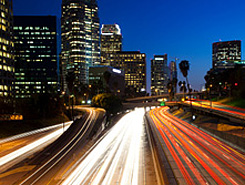 City of Los Angeles, Public Works Dept., Bureau of Sanitation
1149 S Broadway, 10th Fl
Los Angeles, CA 90015

Wayne King
Wayne King serves as the Los Angeles Clean Cities Coalition Coordinator and is employed as an Environmental Specialist with the City of Los Angeles. King has worked for the City since 2000. He began working with the Clean Cities Coalition around 2003 and was co-coordinator beginning in early 2009. In February 2010 he took on the role of Clean Cities Coordinator. His major job duties focus on mobile source air pollution reduction programs. He has managed the City's Interdepartmental Alternative Fuel Task Force (IAFT), Bike Patrols for Clean Air Program, tracked legislation, managed grants and worked on other air quality related matters. King has many years of combined experience in urban planning, business management, and employee relations.
King has an in-depth knowledge of alternative fuel vehicles and worked closely with the LA coalition before becoming the coordinator. He holds a Bachelor's degree in Urban and Regional Planning from East Carolina University and also has a wealth of experience in business management and employee relations. He acts as liaison between the City's fleets and regulatory agencies. Each year he conducts an emission reductions survey of all City departments. He is skilled in public outreach and networking, has direct ties with the City's fleet managers, and has managed many alternative fuel demonstration projects. His projects have included LA's electric vehicle demonstration project and the City's award winning bicycle patrols project. Past projects have included the region's first major on-road vehicle retrofit project, working closely with CARB and the South Coast Air Quality Management District.
General Stats
Designated: March 22, 1996
Population: 10,325,787
Area: 1,156 sq. mi.
Boundary: City of Los Angeles
Alternative Fueling Stations
Biodiesel (B20 and above): 1
Natural Gas: 97
Ethanol (E85): 17
Electric: 3571
Propane: 59
Petroleum Savings*
Annual Petroleum Savings
Annual Petroleum Savings by Alternative Fuel Vehicle Project Type
Greenhouse Gas Savings*
Annual Greenhouse Gas Emission Avoided
Greenhouse Gas Emission Reduced by Alternative Fuel Vehicle Project Type
*2015 DOE-Verified Metrics
Learn about just some of the projects from Los Angeles Clean Cities Coalition. Visit the Los Angeles Clean Cities Coalition website for more projects and information.
Also see: