Greater Long Island Clean Cities
The Greater Long Island Clean Cities works with vehicle fleets, fuel providers, community leaders, and other stakeholders to save energy and promote the use of domestic fuels and advanced vehicle technologies in transportation.
356 Oakleigh Ave #17
Baiting Hollow, NY 11933

Rita D. Ebert
Rita D. Ebert is the key staff member of the Greater Long Island Clean Cities Coalition where she has been the Program Director since 2007. She administers all contractual and reporting duties for approximately $10 million dollars in federal Congestion Mitigation Air Quality (CMAQ) funding and close to $15 million dollars in DOE's Clean Cities American Recovery Reinvestment Act funding. As director of one of the nation's largest Coalitions, she represents the interests of over 400 regional stakeholders in the promotion and advancement of Alternative Fuel technologies and programs.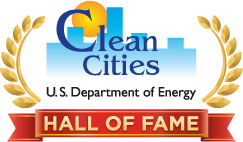 Ebert is recognized for her leadership and contribution to the business of clean fuels and the benefits they bring. She has been appointed to national boards where she contributes her experience and regional ideas for our nation's future energy policies. These include the Boards of the National Clean Cities Directors Council as Co-Chair and the National Transportation Energy Partnership. Ebert was recognized for outstanding leadership, creative thinking, and accomplishment in achieving greater use of alternative fuels, other clean vehicle technologies, and petroleum reduction practices. In 2013, she was inducted into the US Department of Energy's Clean Cities Hall of Fame. Ebert also received the Benjamin Watson Leadership award from the Clean Cities Director Council.
General Stats
Designated: October 18, 1996
Population: 2,917,251 (based on 2021 Census estimate)
Area: 1,207 sq. mi.
Local/Regional Service Area: Counties: Nassau, Suffolk
Alternative Fueling Stations
Including public and private stations

Biodiesel (B20 and above): 5
Electric (charging outlets): 1,068
Ethanol (E85): 42
Hydrogen: 1
Natural Gas: 11
Propane: 6
Energy Use Impact*
Annual Energy Impact
Annual Energy Impact by Alternative Fuel Vehicle Project Type
Emissions Reduced*
Annual Emissions Reduced
Emissions Reduced by Alternative Fuel Vehicle Project Type
*2021 DOE-Verified Metrics
Learn about just some of the projects from Greater Long Island Clean Cities.
Projects and Case Studies