Land of Sky Clean Vehicles Coalition (Western North Carolina)
The Land of Sky Clean Vehicles Coalition (Western North Carolina) works with vehicle fleets, fuel providers, community leaders, and other stakeholders to save energy and promote the use of domestic fuels and advanced vehicle technologies in transportation.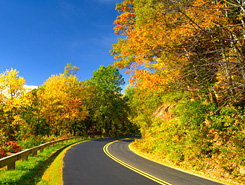 339 New Leicester Hwy, Ste 140
Asheville, NC 28806

Bill Eaker
Bill Eaker established the Land of Sky Clean Vehicles Coalition, serving the Western North Carolina region, in 2004 and has served as the coalition's coordinator since then. He has over 38 years of experience in environmental, land use, and growth management planning at the local, regional, and state scales. He has worked at Land of Sky Regional Council since 1981 and provides technical assistance to local governments on environmental issues in the areas of water resources management, air quality planning, and clean vehicle technologies.
Eaker has a Master of Arts of Public Administration in Environmental and Growth Management from Florida Atlantic University.
General Stats
Designated: July 26, 2012
Population: 493,800 (based on 2018 Census estimate)
Area: 2,421 sq. mi.
Boundary: A five-county region in western North Carolina including Buncombe, Henderson, Haywood, Transylvania and Madison counties.
Alternative Fueling Stations
Including public and private stations
Biodiesel (B20 and above): 8
Electric (charging outlets): 164
Ethanol (E85): 0
Hydrogen: 0
Natural Gas: 6
Propane: 8
Energy Use Impact*
Annual Energy Impact
Annual Energy Impact by Alternative Fuel Vehicle Project Type
Emissions Reduced*
Annual Emissions Reduced
Emissions Reduced by Alternative Fuel Vehicle Project Type
*2018 DOE-Verified Metrics
Videos

North Carolina Commits to Clean Energy with EV Charging

America's Largest Home Runs on Biodiesel in North Carolina

City of Hendersonville Converts Vehicles to Natural Gas in North Carolina

North Carolina's Henderson County Focuses on Natural Gas

Blue Ridge Parkway Incorporates Alternative Fuels in Its Fleet

North Carolina City Expands Alternative Fuel Fleet

Great Smoky Mountains National Park Turns to Alternative Fuels