Kentucky Clean Cities Partnership
The Kentucky Clean Cities Partnership works with vehicle fleets, fuel providers, community leaders, and other stakeholders to save energy and promote the use of domestic fuels and advanced vehicle technologies in transportation.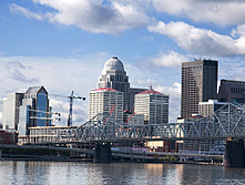 P.O. Box 5174
Louisville, KY 40255

Emily Carpenter
Emily Carpenter has served the Kentucky Clean Fuel Coalition (KCFC) since 2012, when she joined the team as part of the U.S. Department of Energy's Clean Cities Workforce Development Program. She was appointed Executive Director in January 2018. Through years of dedicated service to KCFC's goals, she has taken on countless challenges to further fleet environmental sustainability and the advancement of the alternative fuels/advanced transportation technology industry in Kentucky. Carpenter is based in Louisville. She oversees programs, coordinates projects, and manages the fiscal well-being of the KCFC. Her educational focus was energy and environmental policy. A Kentucky native, Carpenter is a graduate of the University of Kentucky's Patterson School with a master's degree of Diplomacy and International Commerce. Carpenter has experience in energy procurement and market analysis as well as grant writing, program management and project development.
General Stats
Designated: October 18, 1994
Population: 4,505,836 (based on 2020 Census estimate)
Area: 40,406 sq. mi.
Local/Regional Service Area: Entire state of Kentucky
Alternative Fueling Stations
Including public and private stations

Biodiesel (B20 and above): 1
Electric (charging outlets): 614
Ethanol (E85): 73
Hydrogen: 0
Natural Gas: 8
Propane: 19
Energy Use Impact*
Annual Energy Impact
Annual Energy Impact by Alternative Fuel Vehicle Project Type
Emissions Reduced*
Annual Emissions Reduced
Emissions Reduced by Alternative Fuel Vehicle Project Type
*2020 DOE-Verified Metrics
Learn about just some of the projects from Kentucky Clean Cities Partnership. Visit the Kentucky Clean Cities Partnership website for more projects and information.
Projects and Case Studies
Videos

Electric Buses Hit the Streets in Kentucky

Kentucky Charges Forward with All-Electric Buses

Mammoth Cave National Park Uses Only Alternative Fuel Vehicles