Kentucky Clean Cities Partnership
The Kentucky Clean Cities Partnership works with vehicle fleets, fuel providers, community leaders, and other stakeholders to reduce petroleum use in transportation.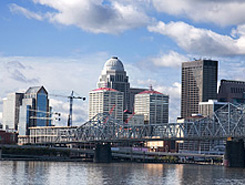 P.O. Box 5174
Louisville, KY 40255

Melissa M. Howell
Melissa Howell has led the Kentucky Clean Fuels Coalition since 1994, with the governance of Officers and a Board of Directors elected annually. Howell is based in Louisville and coordinates projects, programs and manages the fiscal well-being of the KCFC. Her educational focus was communications at Murray State University with continuing education as a graduate of the Bingham Fellows Program of Leadership Louisville. She mentors across the country for the U.S. Department of Energy, is a liaison between U.S. Department of Energy and UPS in the National Partner Program and serves as a founding board member of the Louisville Sustainability Council. She has been honored with a variety of awards including the Governor's Environmental Award, the Environmental Leadership Award from Mammoth Cave National Park, Clean Cities Coordinator of the Year and the U.S. Department of Energy Pioneer Award for twenty years of service.
General Stats
Designated: October 18, 1994
Population: 4,395,295
Area: 40,409 sq. mi.
Boundary: Entire state of Kentucky
Alternative Fueling Stations
Biodiesel (B20 and above): 5
Natural Gas: 11
Ethanol (E85): 73
Electric: 175
Propane: 35
Petroleum Savings*
Annual Petroleum Savings
Annual Petroleum Savings by Alternative Fuel Vehicle Project Type
Greenhouse Gas Savings*
Annual Greenhouse Gas Emission Avoided
Greenhouse Gas Emission Reduced by Alternative Fuel Vehicle Project Type
*2015 DOE-Verified Metrics
Learn about just some of the projects from Kentucky Clean Cities Partnership. Visit the Kentucky Clean Cities Partnership website for more projects and information.
Also see: