Kansas City Regional Clean Cities
The Kansas City Regional Clean Cities works with vehicle fleets, fuel providers, community leaders, and other stakeholders to save energy and promote the use of domestic fuels and advanced vehicle technologies in transportation.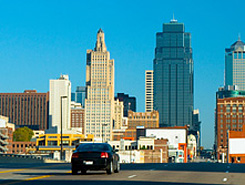 Metropolitan Energy Center
3810 Paseo Blvd
Kansas City, MO 64109

Kelly Gilbert
Kelly Gilbert is Transportation Director at Metropolitan Energy Center, which she joined in 2008 as coordinator of the Kansas City Regional Clean Cities Coalition. She now shares coordinator duties with a co-coordinator and manages a small Clean Cities staff of clean energy enthusiasts. She has coordinated proposals resulting in 3 major grant awards from the U.S. Department of Energy for clean transportation planning and implementation, in addition to smaller private grants for outreach and training. Through these projects, MEC and its partners have managed nearly $40 million in clean transportation projects and have achieved deployment of hundreds of alternative fuel and advanced technology vehicles across 3 states and the installation of a variety of refueling stations that support hundreds more alternative fuel vehicles on major travel corridors.
Gilbert manages activities of the coalition and a collaborative agreement among four Clean Cities coalitions to remove barriers to local adoptions of alternative fuels. Under her leadership, the Clean Cities staff and stakeholders hold quarterly meetings and events, provide technical assistance to business and government agencies and tell the public the success stories of participant fleets. Gilbert sits on the Air Quality Forum for Mid-America Regional Council, and she previously co-chaired the Greater Kansas City Plug-In Readiness Initiative and oversaw Electrify Heartland to prepare the community for electric vehicles.

David Albrecht
David Albrecht is the Co-Coordinator of Kansas City Regional Clean Cities.
General Stats
Designated: November 18, 1998
Population: 1,469,815
Area: 4,203 sq. mi.
Boundary: Missouri counties: Cass, Clay, Jackson, Johnson, Platte, Ray. Kansas counties: Leavenworth, Wyandotte; City of Kansas City
Alternative Fueling Stations
Including public and private stations
Biodiesel (B20 and above): 0
Natural Gas: 17
Ethanol (E85): 11
Electric: 1286
Propane: 16
Energy Use Impact*
Annual Energy Impact
Annual Energy Impact by Alternative Fuel Vehicle Project Type
Emissions Reduced*
Annual Emissions Reduced
Emissions Reduced by Alternative Fuel Vehicle Project Type
*2016 DOE-Verified Metrics
Learn about just some of the projects from Kansas City Regional Clean Cities. Visit the Kansas City Regional Clean Cities website for more projects and information.
Projects and Case Studies
Videos

Renzenberger Inc Saves Money With Propane Vans

Happy Cab Fuels Taxi Fleet With CNG

Natural Gas School Buses Help Kansas City Save Money

Metropolitan Utilities District Fuels Vehicles With Natural Gas

Electric Trucks Deliver at Kansas City Schools

Kansas City Greens Its Fleet With Natural Gas and Biodiesel