Kansas City Regional Clean Cities
The Kansas City Regional Clean Cities works with vehicle fleets, fuel providers, community leaders, and other stakeholders to save energy and promote the use of domestic fuels and advanced vehicle technologies in transportation.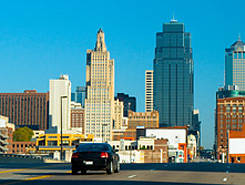 Metropolitan Energy Center
300 East 39th Street
Kansas City, MO 64111

David Albrecht
David Albrecht is the Co-Coordinator of Kansas City Regional Clean Cities. He joined the Metropolitan Energy Center team in 2013, and has helped manage a range of programs in the years since, including the Mid-America Collaborative for Alternative Fuels Implementation, DERA and USDOE grants for vehicle replacement and alt-fuel deployments, AFV corridor designations and the National Parks Initiative.

Brandt Hertenstein
Brandt Hertenstein is the new co-coordinator for the Kansas City Regional Clean Cities Coalition. He joined Metropolitan Energy Center in the fall of 2020 as a Program Coordinator. Prior to his position at MEC, he was a member of Bridging the Gap's city-wide recycling team. He received his bachelor's degree in Molecular and Cellular Biology with a minor in Chemistry from the University of Illinois in Urbana-Champaign, where he also went on to complete his Master's in Bioenergy.
Hertenstein's focus is in the transportation sector, specifically advocating for electrification of vehicles and infrastructure development in the Midwest region. He is lead for the Electrify Kansas initiative under the DRIVE for EVs project.
General Stats
Designated: November 18, 1998
Population: 1,513,378 (based on 2020 Census estimate)
Area: 4,186 sq. mi.
Local/Regional Service Area: Missouri counties: Cass, Clay, Jackson, Johnson, Platte, Ray; Kansas counties: Leavenworth, Wyandotte; City of Kansas City
Alternative Fueling Stations
Including public and private stations

Biodiesel (B20 and above): 9
Electric (charging outlets): 1,289
Ethanol (E85): 17
Hydrogen: 0
Natural Gas: 15
Propane: 12
Energy Use Impact*
Annual Energy Impact
Annual Energy Impact by Alternative Fuel Vehicle Project Type
Emissions Reduced*
Annual Emissions Reduced
Emissions Reduced by Alternative Fuel Vehicle Project Type
*2020 DOE-Verified Metrics
Learn about just some of the projects from Kansas City Regional Clean Cities. Visit the Kansas City Regional Clean Cities website for more projects and information.
Projects and Case Studies
Videos

Renzenberger Inc Saves Money With Propane Vans

Happy Cab Fuels Taxi Fleet With CNG

Natural Gas School Buses Help Kansas City Save Money

Metropolitan Utilities District Fuels Vehicles With Natural Gas

Electric Trucks Deliver at Kansas City Schools

Kansas City Greens Its Fleet With Natural Gas and Biodiesel