Iowa Clean Cities Coalition
The Iowa Clean Cities Coalition works with vehicle fleets, fuel providers, community leaders, and other stakeholders to save energy and promote the use of domestic fuels and advanced vehicle technologies in transportation.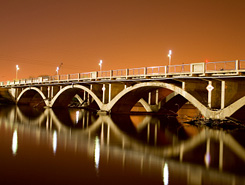 200 E Grand Ave
Des Moines, IA 50309

Stephanie Weisenbach
Stephanie Weisenbach is the Coordinator of the Iowa Clean Cities Coalition which is housed in the Iowa Energy Office at the Iowa Economic Development Authority (IEDA).
Weisenbach became coordinator of Iowa Clean Cities in 2013. She has facilitated planning discussions with stakeholders on project opportunities and organized a variety of educational and networking events. Educational initiatives have included ride and drives, fleet education, safety training relating to fire codes and first responders, and auto technician trainings. Being housed in the Iowa Energy Office, Weisenbach often serves as a point of entry for stakeholders to learn more about state programs and requirements related to alternative fuels.
Weisenbach has worked at the IEDA since 2008 and coordinated training and technical assistance for local governments, small businesses, and community and economic development leaders. She brings experience in grant writing and management, professional services contracting, communications, program development and event organizing to the Iowa Clean Cities Coalition.
General Stats
Designated: October 15, 2005
Population: 3,090,416
Area: 56,271 sq. mi.
Boundary: Entire state of Iowa
Alternative Fueling Stations
Biodiesel (B20 and above): 9
Natural Gas: 9
Ethanol (E85): 260
Electric: 255
Propane: 33
Petroleum Savings*
Annual Petroleum Savings
Annual Petroleum Savings by Alternative Fuel Vehicle Project Type
Greenhouse Gas Savings*
Annual Greenhouse Gas Emission Avoided
Greenhouse Gas Emission Reduced by Alternative Fuel Vehicle Project Type
*2015 DOE-Verified Metrics
Learn about just some of the projects from Iowa Clean Cities Coalition. Visit the Iowa Clean Cities Coalition website for more projects and information.
Also see: