Iowa Clean Cities Coalition
The Iowa Clean Cities Coalition works with vehicle fleets, fuel providers, community leaders, and other stakeholders to save energy and promote the use of domestic fuels and advanced vehicle technologies in transportation.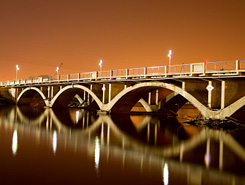 1963 Bell Avenue, Suite 200
Des Moines, IA 50315

Abbie Christophersen
Abbie Christophersen is a program manager with the State of Iowa Energy Office at the Iowa Economic Development Authority (IEDA). She joined IEDA in May 2022 and took on the role as Iowa Clean Cities Coalition Director. She will manage the statewide coalition with a focus on deployment and adoption of alternative fuels and alternative fuel vehicles while capitalizing on Iowa's resources. Her work will focus on engaging with coalition stakeholders to ensure current and future success.
General Stats
Designated: October 15, 2005
Population: 3,193,079 (based on 2021 Census estimate)
Area: 56,273 sq. mi.
Local/Regional Service Area: Entire state of Iowa including tribal lands
Alternative Fueling Stations
Including public and private stations

Biodiesel (B20 and above): 327
Electric (charging outlets): 843
Ethanol (E85): 343
Hydrogen: 0
Natural Gas: 9
Propane: 34
Energy Use Impact*
Annual Energy Impact
Annual Energy Impact by Alternative Fuel Vehicle Project Type
Emissions Reduced*
Annual Emissions Reduced
Emissions Reduced by Alternative Fuel Vehicle Project Type
*2021 DOE-Verified Metrics
Learn about just some of the projects from Iowa Clean Cities Coalition. Visit the Iowa Clean Cities Coalition website for more projects and information.
Projects and Case Studies