Iowa Clean Cities Coalition
The Iowa Clean Cities Coalition works with vehicle fleets, fuel providers, community leaders, and other stakeholders to save energy and promote the use of domestic fuels and advanced vehicle technologies in transportation.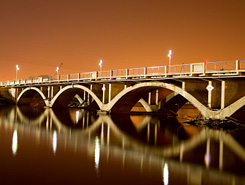 1963 Bell Avenue, Suite 200
Des Moines, IA 50315

MK Anderson
MK Anderson is the Clean Cities coordinator for Iowa Clean Cities Coalition. MK holds a B.S. in Applied Economics with a minor in Sustainability from the University of Minnesota. Most recently, she worked for the Environmental Economics division of the United Nations Environmental Program in Nairobi, Kenya. MK also has experience working for Ever-Green Energy, Eureka Recycling and the Twin Cities Clean Cities Coalition. MK is dedicated to the mission of clean cities and is working hard to advance clean energy and improve the quality of life in Iowa and nationwide.
General Stats
Designated: October 15, 2005
Population: 3,190,369 (based on 2020 Census estimate)
Area: 56,273 sq. mi.
Local/Regional Service Area: Entire state of Iowa
Alternative Fueling Stations
Including public and private stations

Biodiesel (B20 and above): 21
Electric (charging outlets): 595
Ethanol (E85): 341
Hydrogen: 0
Natural Gas: 11
Propane: 36
Energy Use Impact*
Annual Energy Impact
Annual Energy Impact by Alternative Fuel Vehicle Project Type
Emissions Reduced*
Annual Emissions Reduced
Emissions Reduced by Alternative Fuel Vehicle Project Type
*2020 DOE-Verified Metrics
Learn about just some of the projects from Iowa Clean Cities Coalition. Visit the Iowa Clean Cities Coalition website for more projects and information.
Projects and Case Studies