Sustainable Transportation Coalition of Hawaii
The Sustainable Transportation Coalition of Hawaii works with vehicle fleets, fuel providers, community leaders, and other stakeholders to reduce petroleum use in transportation.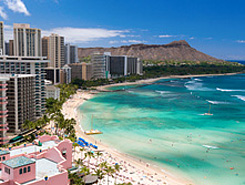 55 Merchant St, 17th Fl
Honolulu, HI 96813

Shem Lawlor
Shem Lawlor joined Blue Planet Foundation in December, 2014, taking over as coordinator for the Honolulu Clean Cities coalition after spending the previous six years as a transit-oriented development (TOD) planner with the City and County of Honolulu.
Lawlor is passionate about sustainable transportation and creating vibrant, healthy communities. While with the City, his work focused on promoting smart growth land use policies, affordable housing, and sustainable mobility through walking, cycling, public transit, bikeshare, and carsharing. He served as the project manager for the Honolulu Bikeshare Organizational Study. His efforts working with public and private sector stakeholders were critical to the founding of Bikeshare Hawaii, the non-profit organization currently working to implement bikeshare throughout the State of Hawaii. For several years he has been a leading advocate of carsharing, working to educate stakeholders and helping to craft legislation at both the State and County level that paved the way for the service in Hawaii.
Lawlor earned a Masters of Urban and Regional Planning Degree from the University of Hawaii at Manoa and a Bachelor's Degree with a major in Political Science from the same institution.
General Stats
Designated: August 29, 1995
Population: 1,420,257
Area: 6,432 sq. mi.
Boundary: Entire state of Hawaii
Alternative Fueling Stations
Biodiesel (B20 and above): 8
Natural Gas: 1
Ethanol (E85): 2
Electric: 618
Propane: 5
Petroleum Savings*
Annual Petroleum Savings
Annual Petroleum Savings by Alternative Fuel Vehicle Project Type
Greenhouse Gas Savings*
Annual Greenhouse Gas Emission Avoided
Greenhouse Gas Emission Reduced by Alternative Fuel Vehicle Project Type
*2015 DOE-Verified Metrics