Sustainable Transportation Coalition of Hawaii
The Sustainable Transportation Coalition of Hawaii works with vehicle fleets, fuel providers, community leaders, and other stakeholders to save energy and promote the use of domestic fuels and advanced vehicle technologies in transportation.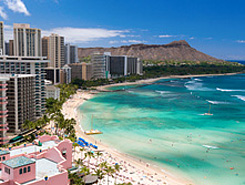 55 Merchant St, Ste 1700
Honolulu, HI 96813
Lauren Reichelt
Lauren Reichelt, Coordinator at the Sustainable Transportation Coalition of Hawaii (STCH), is responsible for coordinating electric vehicle activities for Blue Planet Foundation and STCH, including year-round EV ride and drive events and the annual Electric Island Drive. She is also the lead on STCH stakeholder outreach and assists the Clean Transportation Director with STCH program administration and the completion of U.S. Department of Energy Clean Cities program deliverables.
Reichelt joined Blue Planet Foundation during the Spring of 2016 as an intern through the U.S. Department of Energy's Clean Cities University Workforce Development Program. She continued with the program in a part-time capacity from May of 2016 to May of 2017 in the role of EV Outreach Specialist. Upon receiving her Master's Degree in Global Leadership and Sustainable Development program from Hawaii Pacific University, Blue Planet Foundation hired her as the full-time Clean Transportation Manager.
Reichelt is a graduate of the University of Wisconsin-Madison, and has an extensive background working with a variety of sustainable agriculture initiatives and organizations throughout Texas and Wisconsin.
General Stats
Designated: August 29, 1995
Population: 1,408,765
Area: 6,432 sq. mi.
Boundary: Entire state of Hawaii
Alternative Fueling Stations
Including public and private stations
Biodiesel (B20 and above): 6
Natural Gas: 0
Ethanol (E85): 2
Electric: 522
Propane: 4
Petroleum Savings*
Annual Petroleum Savings
Annual Petroleum Savings by Alternative Fuel Vehicle Project Type
Greenhouse Gas Savings*
Annual Greenhouse Gas Emission Avoided
Greenhouse Gas Emission Reduced by Alternative Fuel Vehicle Project Type
*2015 DOE-Verified Metrics