Greater Washington Region Clean Cities Coalition
The Greater Washington Region Clean Cities Coalition works with vehicle fleets, fuel providers, community leaders, and other stakeholders to save energy and promote the use of domestic fuels and advanced vehicle technologies in transportation.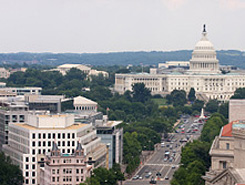 2000 14th St, NW, Ste 330
P.O. Box 73402, 20056-3402
Washington, DC 20009

Ira Dorfman
Ira Dorfman has served as Executive Director and Coordinator of the Greater Washington Region Clean Cities Coalition since January 2017.
Dorfman has extensive public policy and private sector experience at Congressional, federal, state and local levels in cutting-edge technology, clean transportation/energy, conservation and environment. He served as a Professional Staff Member of the United States Senate Energy & Natural Resources Committee; the international program manager of USDOE/USAID-funded clean transportation program in India; a national trade association executive; and as a Washington representative for numerous companies and institutions. Throughout his career, he was worked on numerous alternative fuel transportation projects that have included vehicular use of natural gas, propane, biodiesel, ethanol, battery electric and hydrogen fuel cells.
Dorfman is a graduate of Kenyon College, Gambier, Ohio and attended graduate school in public administration at Rutgers University. He serves as a member of the Metropolitan Washington Council of Governments' Climate, Energy & Environment Policy Committee and is Past Chairman of the Society of Automotive Engineers' Washington, DC Section.
General Stats
Designated: October 21, 1993
Population: 3,163,481 (based on 2019 Census estimate)
Area: 1,407 sq. mi.
Local/Regional Service Area: District of Columbia; includes Alexandria, VA; Arlington County, VA; City of Fairfax, VA; Fairfax County, VA; Falls Church, VA; Loudoun County, VA; City of Manassas, City of Manassas Park, Prince William County, VA. Works cooperatively with bordering coalitions in Virginia and Maryland.
Alternative Fueling Stations
Including public and private stations

Biodiesel (B20 and above): 8
Electric (charging outlets): 2,108
Ethanol (E85): 15
Hydrogen: 0
Natural Gas: 7
Propane: 11
Energy Use Impact*
Annual Energy Impact
Annual Energy Impact by Alternative Fuel Vehicle Project Type
Emissions Reduced*
Annual Emissions Reduced
Emissions Reduced by Alternative Fuel Vehicle Project Type
*2019 DOE-Verified Metrics
Videos

Hydrogen Drive

District of Columbia's Government Fleet Uses a Wide Variety of Alternative Fuels