Greater Washington Region Clean Cities Coalition
The Greater Washington Region Clean Cities Coalition works with vehicle fleets, fuel providers, community leaders, and other stakeholders to save energy and promote the use of domestic fuels and advanced vehicle technologies in transportation.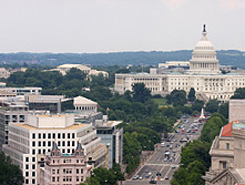 2000 14th St, NW, Ste 330
P.O. Box 73402, 20056-3402
Washington, DC 20009
Ira Dorfman
Ira Dorfman, Executive Director and Coordinator of the Greater Washington Region Clean Cities Coalition, is an internationally recognized expert in energy policy, alternative fuels, environmental transportation policy and international project development. His distinguished career includes positions as Professional Staff Member of the United States Senate Energy and Natural Resources Committee; state government official; food industry trade association executive; and entrepreneur, establishing his own consulting firm, eMobility International.
Dorfman has represented a wide variety of organizations and worked extensively with corporate and municipal fleets in the United States to make them more environmentally conscious. He has collaborated with Anheuser-Busch on its environmental efforts in the Hunts Point section of the Bronx, NY to increase its use of natural gas in its delivery truck fleet, and to install particulate traps and other emission controls on its older trucks. He was instrumental in bringing natural gas transit buses to Montgomery County, Maryland, both helping the County find funding sources for the project and working with them to identify available technologies.
Dorfman served as Chairman of the Washington, DC Section of the Society of Automotive Engineers; Chairman of the Energy Users Group, an ad hoc organization of Washington area food and agriculture organizations; and Chairman of the Public Relations Committee of the Natural Gas Vehicle Coalition.
General Stats
Designated: October 21, 1993
Population: 3,171,183
Area: 1,407 sq. mi.
Boundary: District of Columbia; includes Alexandria, VA; Arlington County, VA; City of Fairfax, VA; Fairfax County, VA; Falls Church, VA; Loudoun County, VA; City of Manassas, City of Manassas Park, Prince William County, VA. Works cooperatively with bordering coalitions in Virginia and Maryland.
Alternative Fueling Stations
Including public and private stations
Biodiesel (B20 and above): 10
Natural Gas: 7
Ethanol (E85): 13
Electric: 1033
Propane: 7
Energy Use Impact*
Annual Energy Impact
Annual Energy Impact by Alternative Fuel Vehicle Project Type
Emissions Reduced*
Annual Emissions Reduced
Emissions Reduced by Alternative Fuel Vehicle Project Type
*2016 DOE-Verified Metrics
Videos

Hydrogen Drive

District of Columbia's Government Fleet Uses a Wide Variety of Alternative Fuels