Greater Washington Region Clean Cities Coalition
The Greater Washington Region Clean Cities Coalition works with vehicle fleets, fuel providers, community leaders, and other stakeholders to reduce petroleum use in transportation.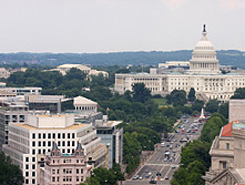 2000 14th St, NW, Ste 330
P.O. Box 73402, 20056-3402
Washington, DC 20009
Ira Dorfman
Ira Dorfman, Executive Director and Coordinator of the Greater Washington Region Clean Cities Coalition, is an internationally recognized expert in energy policy, alternative fuels, environmental transportation policy and international project development. His distinguished career includes positions as Professional Staff Member of the United States Senate Energy and Natural Resources Committee; state government official; food industry trade association executive; and entrepreneur, establishing his own consulting firm, eMobility International.
Dorfman has represented a wide variety of organizations and worked extensively with corporate and municipal fleets in the United States to make them more environmentally conscious. He has collaborated with Anheuser-Busch on its environmental efforts in the Hunts Point section of the Bronx, NY to increase its use of natural gas in its delivery truck fleet, and to install particulate traps and other emission controls on its older trucks. He was instrumental in bringing natural gas transit buses to Montgomery County, Maryland, both helping the County find funding sources for the project and working with them to identify available technologies.
Dorfman served as Chairman of the Washington, DC Section of the Society of Automotive Engineers; Chairman of the Energy Users Group, an ad hoc organization of Washington area food and agriculture organizations; and Chairman of the Public Relations Committee of the Natural Gas Vehicle Coalition.

Claude Willis
Claude Willis has been with Greater Washington Region Clean Cities (GWRCC) since it was organized in November of 2010 and was appointed co-coordinator of the coalition in July, 2014. His management experiences span more than 20 years in the areas of fleet management and operational support. He previously served as Treasurer of the Washington Area Fleet Administrators, member of National Association of Fleet Administrators, and was selected as a delegate to a White House Conference on Small Business. Willis also served on the DC Government's SustainableDC task force, working with the clean energy transportation group to lend subject-matter expertise and to identify best practices and cost effective priorities for the District of Columbia sustainability strategy.
Willis has served as GWRCC's regional project manager for the Department of Energy funded Northeast Electric Vehicle Network to develop electric vehicle infrastructure policies and implementation strategies and is currently serving as project manager for the DOE funded Advancing Alternative Fuels Market which involves a partnership with MD and VA clean cities as well as a number of private sector partners. He has also been instrumental in writing and/or managing federal and private clean energy transportation grants and served as Electric Vehicle work group leader and advisor on fleet issues and education programs in conjunction with the DC metro regional planning organization.
Commissioned as an officer through the Officers Candidate School in the US Army Quartermaster Corps at Ft. Lee, VA, Willis was awarded the Army Commendation Medal for superior performance of duties upon completion of a tour of duty in Munich, Germany. He earned a BS in Business Administration with Honors from Norfolk State University and was awarded a MBA from Columbia University. He completed additional graduate studies in economics and real estate at the University of California, Berkeley.
General Stats
Designated: October 21, 1993
Population: 3,034,765
Area: 1,407 sq. mi.
Boundary: District of Columbia; includes Alexandria, VA; Arlington County, VA; City of Fairfax, VA; Fairfax County, VA; Falls Church, VA; Loudoun County, VA; City of Manassas, City of Manassas Park, Prince William County, VA. Works cooperatively with bordering coalitions in Virginia and Maryland.
Alternative Fueling Stations
Biodiesel (B20 and above): 10
Natural Gas: 6
Ethanol (E85): 7
Electric: 728
Propane: 9
Petroleum Savings*
Annual Petroleum Savings
Annual Petroleum Savings by Alternative Fuel Vehicle Project Type
Greenhouse Gas Savings*
Annual Greenhouse Gas Emission Avoided
Greenhouse Gas Emission Reduced by Alternative Fuel Vehicle Project Type
*2015 DOE-Verified Metrics