East Tennessee Clean Fuels Coalition
The East Tennessee Clean Fuels Coalition works with vehicle fleets, fuel providers, community leaders, and other stakeholders to save energy and promote the use of domestic fuels and advanced vehicle technologies in transportation.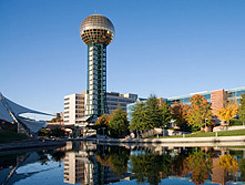 University of Tennessee, Knoxville
311 Conference Center Bldg
Knoxville, TN 37996-4134
Jonathan Overly
Jonathan Overly founded the East Tennessee Clean Fuels Coalition (ETCleanFuels) in 2002 and has managed it since its inception. He has spoken to thousands of people across east Tennessee including hundreds of companies and organizations about partnering to expand alternative fuel use in the area. Many government and industry fleets are coalition members. Although biodiesel was an early lead fuel for the coalition, in 2008 the coalition began expanded activities to focus on all of the alternatives, and currently has projects underway that are focused on expanding the use of CNG, propane, biodiesel, E85, TSE (truck stop electrification), LNG and full-size light-duty electric vehicles.
Some of ETCleanFuels major initiatives include:
Overly currently serves on the Steering Committee for the EPA Region 4 Southeast Diesel Collaborative as well as on the Board of Directors for Transportation Energy Partners, and formerly served on the National Clean Cities Coordinators Council." Overly has a Master of Science in Environmental Engineering from UTK. At the 2006 Alternative Fuels & Vehicles National Conference he was named the Clean Cities Coordinator of the Year, and has won several regional and state awards for advancing alternative fuels and improving air quality. In 2015, Overly was inducted into the Clean Cities Hall of Fame, joining a slew of other great coordinators that work hard to show dedication and leadership to the Clean Cities mission and serving fleets in their communities.

Daniel Siksay
Daniel Siksay is the Co-Coordinator of East Tennessee Clean Fuels Coalition.
General Stats
Designated: October 12, 2004
Population: 2,793,297 (based on 2018 Census estimate)
Area: 13,971 sq. mi.
Boundary: Counties: Anderson, Bledsoe, Blount, Bradley, Campbell, Cannon, Carter, Claiborne, Clay, Cocke, Coffee, Cumberland, De Kalb, Fentress, Franklin, Grainger, Greene, Grundy, Hamblen, Hamilton, Hancock, Hawkins, Jackson, Jefferson, Johnson, Knox, Loudon, Marion, McMinn, Meigs, Monroe, Morgan, Overton, Pickett, Polk, Putnam, Rhea, Roane, Scott, Sequatchie, Sevier, Sullivan, Unicoi, Union, Van Buren, Warren, Washington, White
Alternative Fueling Stations
Including public and private stations
Biodiesel (B20 and above): 3
Electric (charging outlets): 478
Ethanol (E85): 24
Hydrogen: 0
Natural Gas: 12
Propane: 31
Energy Use Impact*
Annual Energy Impact
Annual Energy Impact by Alternative Fuel Vehicle Project Type
Emissions Reduced*
Annual Emissions Reduced
Emissions Reduced by Alternative Fuel Vehicle Project Type
*2018 DOE-Verified Metrics
Learn about just some of the projects from East Tennessee Clean Fuels Coalition. Visit the East Tennessee Clean Fuels Coalition website for more projects and information.
Projects and Case Studies
Videos

Natural Gas Vehicles Make a Difference in Tennessee

National Park Saves Natural Resources with Alternative Fuels

Smoky Mountains Leads the Way in Implementing Alternative Fuels

Knoxville Utilities Board Reduces Petroleum Use